Academic colleagues from Architecture and The Fabrication Lab on Marylebone Campus as well as from the Emerging Media Space (EMS) on Harrow Campus are printing protective acetate visor shields for the NHS to contribute to the efforts against the spread of COVID-19.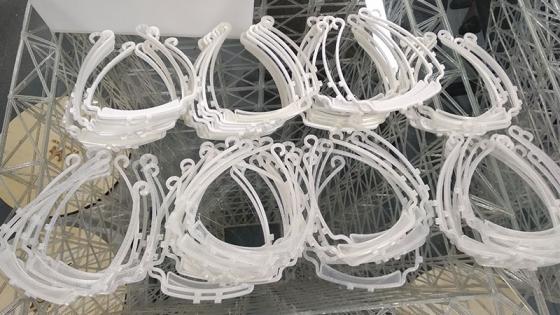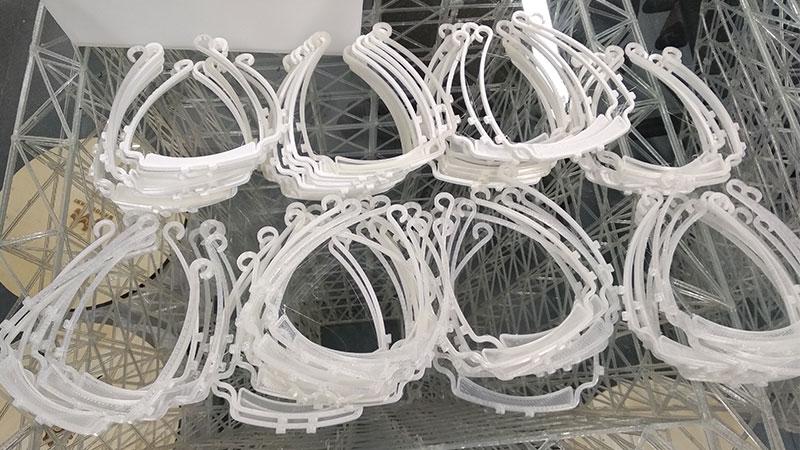 The team from the Fabrication Lab led by Dr David Scott, and Connor Turansky, Technician in EMS, have joined the effort being made by designers and the maker community across the UK to use 3D printers to manufacture parts for face shields, an essential part of personal protective equipment (PPE) for those working on the front line of the coronavirus pandemic.
The team have relocated some of their smaller Prusa printers from the Fabrication Lab to the homes of several of the lab team, and Turansky is using EMS printers at home. The Fabrication Lab team are contributing parts based on the design by Prusa, as well as materials.
They joined forces with over 6,000 3D printing volunteers in a group called 3D Crowd UK to increase distribution of PPE in the medical and health services to address the shortage of PPE in the UK during the coronavirus pandemic. 
The volunteer community is aiming to produce an initial 80,000 face shields. It has delivered nearly 40,000 face shields over the Easter weekend to hospitals, GP practices and social care organisations that included shields printed by Westminster academics.
The Fabrication Lab provides an innovative learning and research environment, inspiring and preparing Westminster students for digital design and fabrication in the 21st century. It is equipped with flexible computer-controlled tools, covering a wide range of scales, materials and processes.
EMS is a place to experiment with different types of media, digital media as well as more traditional media. The equipment can be used to work on and develop new projects such as audio synthesis, sound and video processing, installations using sensors, building new VR or experimenting with it, or to make 3D models, and much more.
Arthur Mamou-Mani, Lecturer in Architecture, is also working remotely in his fabrication space FabPub with his colleague Giovanni Panico to produce up to 30 masks per day, helping hospitals, a charity, and a homecare, offering a massive help in containing the disease. They use three printers to fabricate face shields from the popular 3D bioplastic called PLA based on the design from 3DVerkstan.
The visor piece is done by laser cutting A4 sheets of acetate. During the process the makers wear masks and gloves, and after checking the prints, the parts are cleaned with Isopropyl Alcohol and put in sealed bags, ready to be shipped or collected.
Mamou-Mani said: "It is so beautiful to see how digital fabrication spaces are able to help during a crisis like this one. 3D printing and laser-cutting are enabling factories to come back to our cities, empowering (and protecting) people. We hope this will inspire people to engage with these technologies, enabling the materialisation of more life-saving items."
Harry Charrington, Head of the School of Architecture + Built Environment, said: "I am touched, and proud, that we are able to contribute in such a way."
Learn more about the Fabrication Lab and the Emerging Media Space.
Learn more about Architecture and Interiors courses at the University of Westminster.