On Wednesday 24 March, colleagues across the University hosted a webinar panel discussion, which was organised by the University's Sustainable Cities and the Urban Environment (SCUE) research community, about green space and wellbeing during COVID-19 to mark one year since the first lockdown in the UK.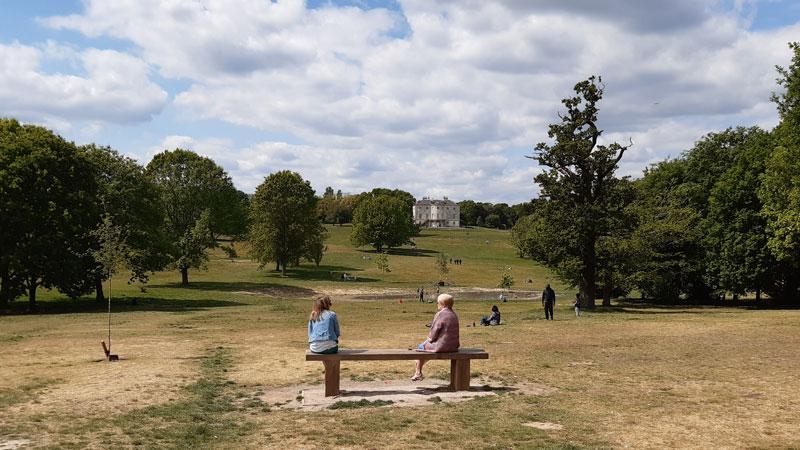 The webinar was led by Dr Krystallia Kamvasinou, Senior Lecturer in Planning, Urban Design and Architecture, Professor Rachel Aldred, Professor of Transport, and Dr Nina Smyth, Senior Lecturer in Psychology. The research team presented their research on green space in London during COVID-19, which examined the use of parks and green space in London during the pandemic and was funded by the SCUE research community.
Panellists Jane Findlay, President of the Landscape Institute, Phillippa Banister, Founder Director of Street Space, Tony Leach, Chief Executive of Parks for London and Wayne Stephenson, Director of Environment and Climate at LB Hounslow also joined the researchers, and shared their viewpoints from a professional organisation perspective.
The event also marked one year since the academics' research into the use of green space for people's wellbeing during the pandemic. Given the restrictions at the time, the researchers created an online survey to ask questions about use, physical activity and travel in relation to green space, whilst capturing Londoners' experiences and their perceived wellbeing and stress levels.
Increased engagement with green space was found for Londoners during the pandemic, highlighting the associated benefits that come with it such as getting fresh air, reducing stress, keeping active and relaxing in nature. Further insights from the research included issues of access, use, physical activity, perceived risks and the need to target the views of underrepresented groups. 
Discussing their preliminary findings, the researchers illustrated to attendees the support for the value of green space during COVID-19, while pointing to the need to address issues of physical distancing and capacity of green space. They also welcomed an open discussion on healthier post-pandemic cities and the crucial contribution that nature and green space can have when thoughtfully engaged with by the practices of planning and urban design.
The team mentioned their ongoing work funded by the Quintin Hogg Trust, entitled 'Adaptation of the public realm to COVID-19 and the impact on future planning and design of sustainable and healthy cities', which aims to contribute to a growing body of research on post-pandemic cities.
Talking about the event, Principal Investigator of the research project Dr Krystallia Kamvasinou said: "I would like to thank everyone who attended and contributed with comments and questions, these are very useful for us to inform our analysis and further research. I would like to thank my co-presenters Professor Rachel Aldred, Dr Nina Smyth, and Holly Weir, and to also credit the work of Ameera Akl and Elena Rossi. Special thanks to our panellists who very generously gave us their time and insights. Thank you to Dr Andrew Smith for chairing and to Alan Yabsley, Research Communities Facilitator, for coordinating the event."
Dr Andrew Smith, Research Lead for the SCUE research community, said: "The webinar was a great chance to share Westminster research on active, healthy green spaces with the public, but also to engage with key organisations who work in this field. We hope this will lead to future collaborations and further research."
Dr Nina Smyth, Co-Investigator of the research, added: "It was a fantastic opportunity to showcase the research we've been doing around the use of green spaces during the COVID-19 pandemic in the context of my wider research on the health benefits of nature exposure. It was promising to receive positive feedback about our research from stakeholders and exciting to discuss how we can take it forward to maximise the benefits of green spaces for all."
Professor Rachel Aldred said: "It was great to speak about our research and to hear from a range of experts in the panel discussion. The project has clearly sparked a lot of interest and we got some brilliant feedback."