The prestigious Summer Exhibition is the world's oldest open-submission exhibition, featuring paintings, printmaking and sculpture, film, photography and installation. Its earliest exhibitors included artists such as Reynolds, Constable and Turner. For 247 years the Royal Academy Summer Exhibition has offered a snapshot of contemporary art.
Dr Victoria Watson's Three Towers artwork is located in this year's Architecture Gallery in the Large Weston Room. The gallery is themed 'Inventive Landscape'. Three Towers belongs to a family of speculative architectures, generically called air grid, and has been the subject of Dr Watson's research for some time.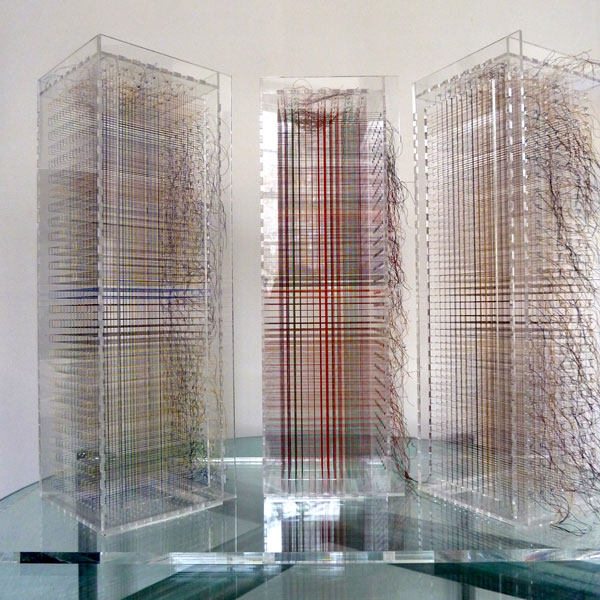 Dr Victoria Watson's Three Towers
Dr Watson explains: "Air grid consists of a three-dimensional lattice structure, made from coloured threads, suspended in a transparent, supporting armature. When cast in bright, clear sunlight, most air grid structures are highly photogenic, more importantly, some air grid structures will produce kinaesthetic sensations in the perceptions of the viewing subject. If the cadence of the air grid lattice is carefully measured – by which is meant the proportions of air-to-thread, within the frame, and the proportions of thread-to-thread, within the framed-air – then the immobility of the air grid form will disappear and it will appear to be animated."
To find out more about air grid architecture, you can visit Dr Watson's website.
Robert Brown's piece entitled Untitled is located in Gallery IV and formed part of his portfolio for the final year of his MArch course at the University of Westminster.
"It stands as an attempt at distancing myself from many of my common drawing conventions in the hope of arriving at something unexpected", says Robert.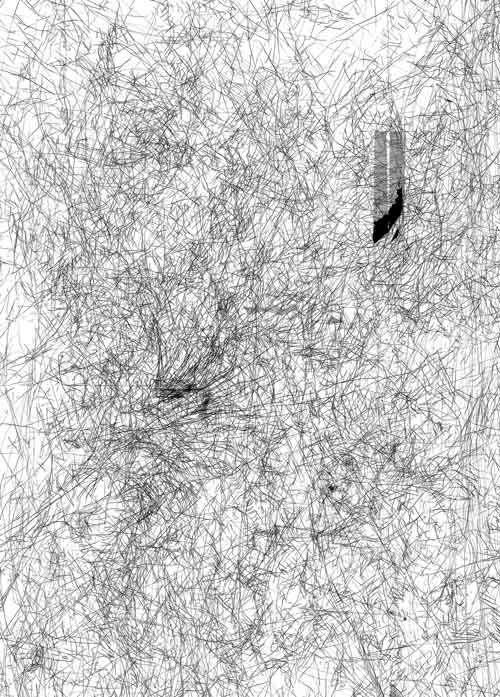 Robert Brown's Untitled
In regards to the process of how his drawing was made, Robert explains:
"The weaker hand holds the drawing instrument
Eyes are shut and a blindfold covers them throughout
The paper is rotated to a set angle
The mark maker spins on the spot in one direction a set number of times and then stops
Hand and instrument move onto paper
The mark maker attempts to record images perceived on the inner surface of the eyelid
Drawing lasts a set time
Drawing is set sometimes to sounds and sometimes to music
This process is repeated a set amount of times
The marks on the pieces of paper have been made over another drawing."
The Royal Academy Summer Exhibition 2015 runs from 8 June–16 August with tickets available through the Royal Academy's ticketing website.