University of Westminster has won the bronze award for Environmental Best Practice at the Green Apple Environment Awards.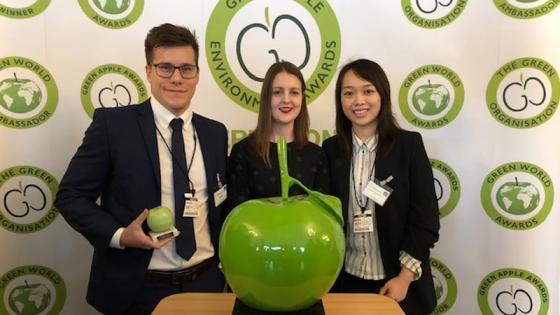 The award was won through an application by the University's waste management contractor Bywaters in recognition of the University's recycling efforts. 
The award for Environmental Best Practice is given to any company, organisation, community or individual that is helping the environment. As part of the win, a donation is made on behalf of the winner to the Green Earth Appeal, which plants trees in emerging nations to help the environment and wildlife and to create job opportunities for local populations.
The Green Apple Environment Awards is an annual campaign to recognise, reward and promote environmental best practice around the world. It is run by The Green Organisation, an independent non-political, non-profit environment group dedicated to recognising, rewarding and promoting environmental best practice around the world.
The aims of the Green Apple Environment Awards are to improve environmental performance, encourage the efficient use of resources, enhance the competitiveness of organisations and to support the wider goals of sustainable development, including social benefits through community and staff involvement.
The University of Westminster's Corporate Social Responsibility Framework combines three key themes: leadership, community and sustainability. Sustainable practices and policies across the University are increasing, from incorporating sustainability into procurement to supporting staff and student-led projects. To help with this commitment to continuous environmental improvements, the University participates in the EcoCampus scheme and currently holds a Gold certificate for the sustainability programme.
The award was presented on 25 November at the Houses of Parliament in the Palace of Westminster.
Jordan Lamb, Sustainability Coordinator, said about the award: "We're proud to have won this award which highlights the University's efforts to improve recycling and reduce the amount of waste we produce. Our aim is to continue our success by further improving our performance and reducing the University's environmental impact."
Learn more about corporate social responsibility at the University.