The University of Westminster, in collaboration with The TechForce, will be hosting 'Hackers On Tour' on 18 February with cyber security experts offering their insider knowledge and tips on how to protect you and your business from cyber-attacks.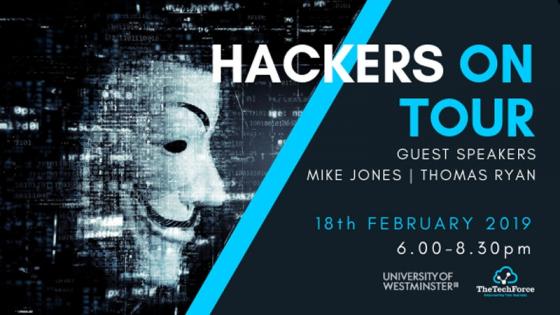 The free-to-attend event, to be held at Little Titchfield Street Campus, will be joined by Mike Jones and Tom Ryan, former 'hackers', who will share their stories and insights on the field. The panel discussion will be followed by a Q&A and a networking session where attendees will have the opportunity to ask further questions and tips on the topic.
Thomas Ryan, one of the guest speakers, is a world-renowned security expert currently working for Micro Focus Fortify, where he provides and implements strategic application security program for Fortune 500 companies. He has particularly been commended by the cyber industry for his 'Robyn Sage Experiment' which drew attention of worldwide professionals on the dangers of social media. He has worked with the US Military and various global government agencies in the areas of ethical hacking, intelligence and protection details for Former Presidents, Prime Minister and Secretaries of State.
Mike Jones, former 'hacker' also known as 'sting3r', has performed numerous security tests for various industries such as the US Department of Defense, major financial institutions, casinos, telecoms and various other large organisations. He has developed 'exploit' techniques both network and app based to help industries protect themselves through greater understanding of the specific threats they face.
The event is co-organised by Ayman El Hajjar, Course Leader for the MSc Cyber Security and Forensics course, alongside with The TechForce, a company providing businesses with cyber security services and security awareness training.
Speaking about the event and the importance to learn more about cyber security, Ayman El Hajjar said: "We live in a connected world now where everything is connected to the internet. It is essential for everyone to understand the effect a hacking incident can have on our daily life and how important it is to protect our digital data. In an ever changing world, the discussion of cyber security has never been more important and we hope this event will inspire all who attend."
The event will start at 6pm on Monday 18 February at Little Titchfield Street Campus.
Find out more about the MSc Cyber Security and Forensics full-time course offered at the University of Westminster.
Find out more about the MSc Cyber Security and Forensics part-time course offered at the University of Westminster.