Last week, Eat UOW together with the University of Westminster hosted Christmas lunches across all campuses to celebrate the festive season.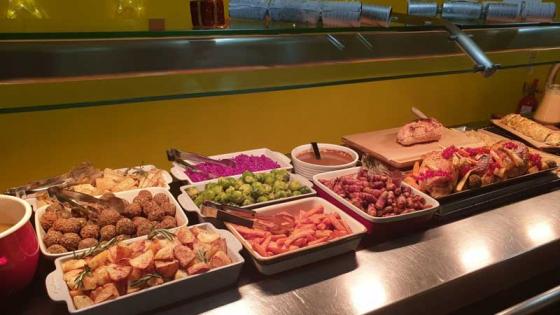 Over 500 Christmas lunches were served offering a choice of three main courses that came with the traditional festive trimmings. 
The menu featured a vegan mushroom and tarragon soup to start, followed by a butter roasted turkey breast main, roasted cod with lemon, garlic and parsley crust or a vegetarian butternut squash, mushroom and spinach wellington with the option to be made vegan.
All mains were served with roast potatoes, cinnamon glazed carrots and parsnips, braised red cabbage and apple, Brussels sprouts, sage and onion stuffing, and gravy.
A traditional dessert of Christmas pudding with Irish cream sauce was also served.
Group Executive Chef from Aramark Nick Thwaites said: "As with all of our food offering, it is really important to us that we are acting as sustainably and responsibly as possible.  For example, our turkeys and pigs in blankets are always British Farm Assured, and the cod was MSC certified. We have both Food for Life Bronze Standard and MSC accreditations, which both set very high minimum standards on responsible farming and fishing practices.
"This also extends to our energy and waste management systems for which we hold the Green Kitchen Standard. This means that, through collaborative working with the Westminster Sustainability Team, we take strong measures to minimise energy and food wastage and ensure we are leaving a minimal footprint. We were even awarded the Green Kitchen Champion award last month for our efforts, which is a great achievement and testament to our teams' hard work in this area.
We try to keep our menus as seasonal as possible. This allows us to use British produce within the season it naturally grows, as well as ensuring we minimise the impact of transportation from farm to plate. For example, the carrots on our Christmas dinners all came from Nottinghamshire, the parsnips from Birmingham and the cabbages from Lincolnshire. We believe this local sourcing is not only key to our sustainable goals but also mean we can offer beautiful British produce when it's at its best."
Learn more about our catering service winning the Green Kitchen Award.