On 19 December 2019, the University of Westminster hosted the IEEE UK & Ireland Section Christmas lecture at the Regent Street Cinema.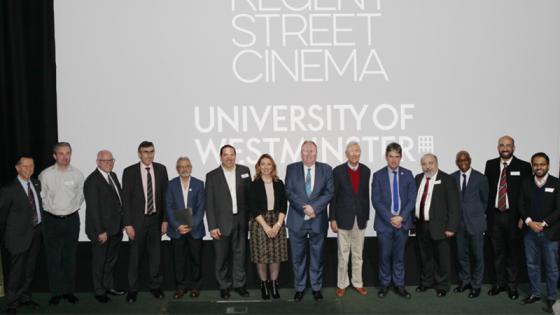 This IEEE event, co-sponsored by the University of Westminster and the Institution of Engineering and Technology (IET), included presentations from the IEEE President and CEO Professor José M.F. Moura, and Westminster's Vice Chancellor and IET President Dr Peter Bonfield. 
The first presentation, titled Data (Big), Computing (Fast), and Algorithms (Learning) – The New Opportunities for a Bright Future, was led by Professor José M.F. Moura of Carnegie Mellon University and IEEE President and CEO. Professor Moura is also the Philip L. and Marsha Dowd University Professor at CMU and has expertise in signal, image and graph signal processing, data science and learning.
In his presentation, Professor Moura overviewed some of the recent developments in data, computing and algorithms and discussed their impacts and applications that are becoming possible and can be expected to lie ahead. He mentioned that we are seeing the "4th Industrial Revolution, and the world is shifting in major aspects with Big Data, Moore's and many more". He also talked about what the implications, opportunities and duties are for a professional organisation like IEEE in the changing world.
University of Westminster Vice Chancellor and IET President Dr Peter Bonfield shared his perspectives on a "New Future for Engineers" and engineering and technology for the future, outlining how the IET is evolving to meet the future needs of engineers and technologists in a rapidly changing world. He focused particularly on "Ensuring competency underpinned by strong ethics to protect society, being the professional home for digital engineering and re-imagining how we educate and inspire young people".
Dr Bonfield is the Chair of the London Higher Health and Wellbeing Network, which was established to help in bringing London universities together to make a practical difference to student wellbeing. He is also a member of the Board of UK Active and has long been passionate about higher education.