The University hosted the Level Up: Westminster Volunteering and Work Experience Fair 2019/20 on 2 October as part of the University's Employability Month.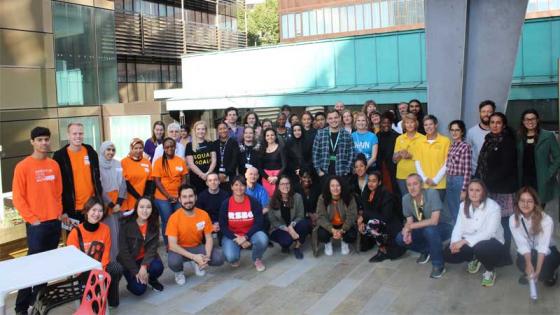 Over 40 different community and voluntary organisations attended, offering an expansive range of volunteering opportunities for all students. Exhibitors present included Black Cultural Archives, Age UK, Mind, OCD Action, Reach Out and the Alzheimer's Society.
The event was organised by the University of Westminster's Corporate Social Responsibility (CSR) team together with the University of Westminster Students' Union as part of the University's Employability Month. Throughout October the University has organised workshops, presentations, guest speakers and networking opportunities to help students kick start their careers.
The Student Volunteering Service focused the fair on providing students with the University's five key attributes of personal and professional development, known as the Graduate Attributes. These are 'global in outlook and engaged in communities', 'socially, ethically and environmentally aware', 'literate and effective communicators', 'entrepreneurial', and 'critical and creative thinkers'. The organisations in attendance aim to help students achieve these attributes.
Berekhet Berakhy, Community Engagement Lead at the University, said about the fair: "Judging by the number of community partners and students attending, it is easily one of the most popular and joyous events on campus. 
"Volunteering and work experience has multiple benefits for the University and directly contributes to our key strategies of Student Experience, Employability and Wellbeing."
One Biomedical Sciences BSc Honours student in attendance said about the fair: "I want to do medicine after I graduate. For me volunteering is a wonderful way to gain practical skills to add to my academic learning, contribute to society and develop personally. The Volunteering and Work Experience Fair has offered me so many opportunities and I have met amazing people."