As a new academic year starts, we'd like to welcome you to our Employability Month!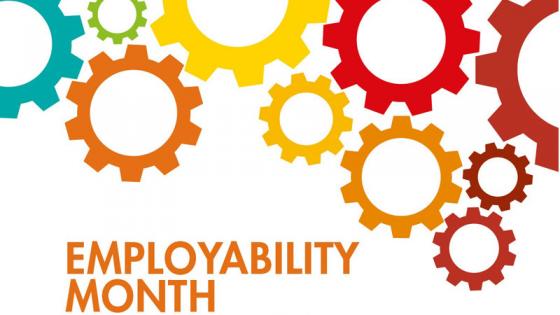 What?
A whole month filled with workshops, presentations, guest speakers and networking opportunities to help you kick start your career.
When & Where?
We have events across all campuses throughout October.
Why?
Meet alumni, get involved with live brief and problem-solving challenges and develop employability and transferable skills with university-wide events as well as specialist events linked to your department or faculty. Keep on reading to find out more and how to join!
Join the following events:
-Meet the Careers Team – Regent Campus: Tuesday 1 October, 12-2PM
-Meet the Careers Team – Cavendish Campus: Tuesday 1 October, 12-2PM
-Level-up: Westminster Volunteering & Work Experience Fair 2019/20: Cavendish Campus: Wednesday 2 October, 1-3:30PM
 -Meet the Careers Team – Marylebone Campus: Thursday 3 October, 12-2PM
-Meet the Careers Team – Harrow Campus: Thursday 3 October, 12-2PM
-CEC Community Mixer – Student Networking Event – Harrow Campus: Thursday 3 October, 5:30-7PM
-Skills Academy: Winning CVs & Applications – Regent Campus: Friday 4 October, 1-2PM
-Innovation, Freelancing and Starting Your Own Business: Business Model Canvas Workshop – Cavendish Campus: Monday 7 October, 5:30-7:30PM
-Information Session: Graduate Venture Accelerator Programme (Start-Up Visas) – Marylebone Campus: Tuesday 8 October, 1-2PM
-Skills Academy: Succeeding at Interviews – Cavendish Campus: Wednesday 9 October, 12-1PM
 -Inclusive Futures – On Campus and Virtual Careers Fair – Marylebone Campus: Wednesday 9 October, 12-5:30PM
 -Inclusive Recruitment Practices Panel (5-6pm), Property & Construction Fair – Marylebone Campus: Thursday 10 October, 5-6PM
-Property and Construction Careers Fair 2019 – Marylebone Campus: Thursday 10 October, 5-7:45PM
-Creative Springboard: How creatives can set up successful businesses, practices and freelance work – Harrow Campus: Monday 14 October, 5:30-7:30
 -Skills Academy: Job Search Strategies for International Students – Harrow Campus: Tuesday 15 October, 12:30-1:30PM
-Industry Hack (Careers & Industry Networking Event) – Regent Campus: Wednesday 16 October, 12-6PM
-Gradcracker Workshop for Computer Science and Engineering students – Cavendish Campus: Monday 21 October, 1-2PM
-Skills Academy: Winning CVs & Applications – Marylebone Campus: Thursday 24 October, 1-2PM
-Enterprise Legal Skills 101: Protecting Your Designs, Work & Ideas -IP, Licensing, Trademarks & NDAs – Harrow Campus: Thursday 24 October, 5:30-7:30
-Enterprise Legal Skills 101: Starting and Registering a Business and Freelancing – Harrow Campus: Monday 28 October, 5:30-7:30PM
-Life Sciences Careers Event – Empowering you for a bright future! – Cavendish Campus: Wednesday 30 October, 10:30AM-4:30PM
-A Deep Dive into Creative, Tech And Startup Careers (Part of the Big Idea Competition Event Series) – Marylebone Campus: Thursday 31 October, 5:30-7:30PM