The lecture delivered by Princeton University Professor Beatriz Colomina examined the new role of the bed as the epicentre of labour, post-labour and love in the age of social media.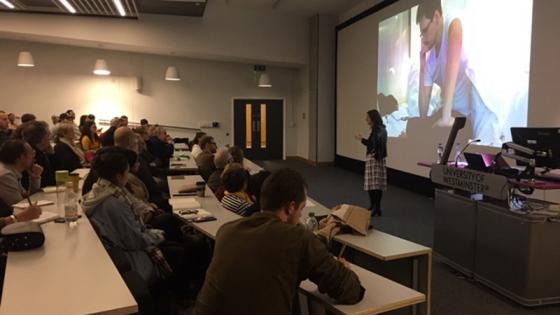 In the lecture, titled 'The 24/7 Bed: Privacy and Publicity in the Age of Social Media', Professor Colomina explored the 24/7 culture of the world around us and how post-industrialisation collapses work into the home and takes it further into the bed itself, which has become the centre of everything we do.
The event was part of the annual Robin Evans Lecture Series, which supports outstanding scholarship in the history of architecture and allied fields, building on the work of the late Robin Evans. Professor Beatriz Colomina is the Howard Corsby Butler Professor of the History of Architecture at Princeton University. She writes and curates on questions of design, art, sexuality and media.
The annual series provides opportunities for creation and dissemination of work by scholars working on similar questions of space, temporality and architecture. In particular, it supports work that breaks the boundaries of traditional disciplines to think through the complex networks involved in the space between human imagination and architectural production.
Robin Evans's work interrogated the spaces that existed between drawing and building, geometry and architecture, teasing out the points of translation often overlooked. From his early work on prison design and domestic spaces, through to his later work on architectural geometry, Evans sought to articulate the multiple points at which the human imagination could influence architectural form.
Professor Katharine Heron, Professor of Architecture and organiser of the event, said: "We were delighted with the turnout of 300 people to the first Robin Evans Lecture, and the audience clearly hugely enjoyed Beatriz Colomina's stimulating, provocative and amusing lecture. She paid tribute to Robin Evans's work and with personal memories of meeting him in New York State in the snow at a diner in the 1980s."
Learn more about our Architecture BA Honours course.