National Student Pride was back at our Marylebone Campus with their Daytime Festival on their 15th anniversary.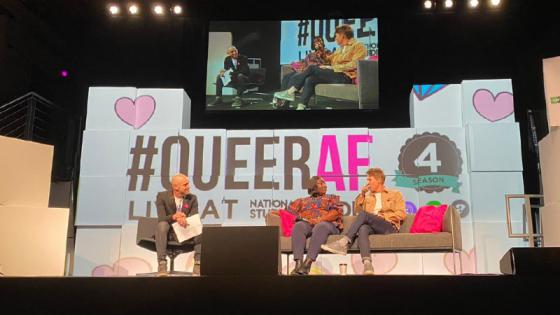 National Student Pride helps young people develop their skills and kick-start their careers through the UK's largest LGBT+ graduate job fair. Companies in attendance at the fair were ASOS, HSBC, J.P. Morgan, Google, Boots, Sky, ITV and more. 
Along with the fair, there were music performances on the music stage and three panels on the main stage - opened by Vinegar Strokes, a RuPaul's Drag Race UK contestant.
The first panel 'Womxn– Carving Out Space' on the main stage welcomed Munroe Bergdorf, a trans model and activist; popstar GIRLI; Tanya Compas, a freelance youth worker; Chloe Davies, from myGwork; and Lady Phyll, co-founder of UK Black Pride as they delved into the multiple prejudices, disappearing safe spaces and lack of media representation that queer womxn face. The panel was hosted by Juno Dawson, a young adult fiction and non-fiction author, who, along with James Barr, were the presenters on the main stage. 
A second panel titled 'Queer Sex' in association with Attitude Magazine also took place on the main stage with This Morning's Dr Ranj Singh; Charlie Craggs, a trans activist; presenter James Barr; and Flo Schechter, a science communicator and comedian. They looked at how to preserve physical, social and mental health in a world of hookups, ghosting and open relationships. The panel was chaired by Cliff Joannou, the Editor of Attitude Magazine.
Towards the end of the day, there was an exclusive live interview where director Dustin Lance Black and activist Lady Phyll talked to presenter Evan Davis about being LGBT+. 
The finale of the day was a 'The Chase'-style quiz called 'The Drag Chase' with Charlie Craggs, Kush Kannah and Kelsey Ellison playing against The Chaser, Baga Chipz, a RuPaul's Drag Race UK contestant who also closed the show with a performance of The Frock Destroyer's 'Break Up Bye Bye'.
The University's student radio station Smoke Radio were hosting the music stage and broadcasting throughout the fair, with the hosts interviewing and playing games with the attendees and performers. 
As part of the celebrations, National Student Pride held an event at G-A-Y Late with drag queens and king Cheryl Hole, Tayce and Mark Anthony on 21 February, as well as a club night at G-A-Y Heaven with American girl group The Pussycat Dolls on 22 February. The celebrations ended with Draglympics: Brunch with a Twist on 23 February, hosted by drag queens Poppycock and Dolly Trolley.
National Student Pride is an annual festival held at the University, bringing together 1700 students from 170 universities from across the globe. It is a not-for-profit organisation run by a committee of student volunteers and supported by a team of graduate volunteers and an experienced advisory board who help to strategically steer the organisation.