On Thursday 13 February, the University of Westminster hosted a celebration event with Santander Universities to mark the continuation of our partnership.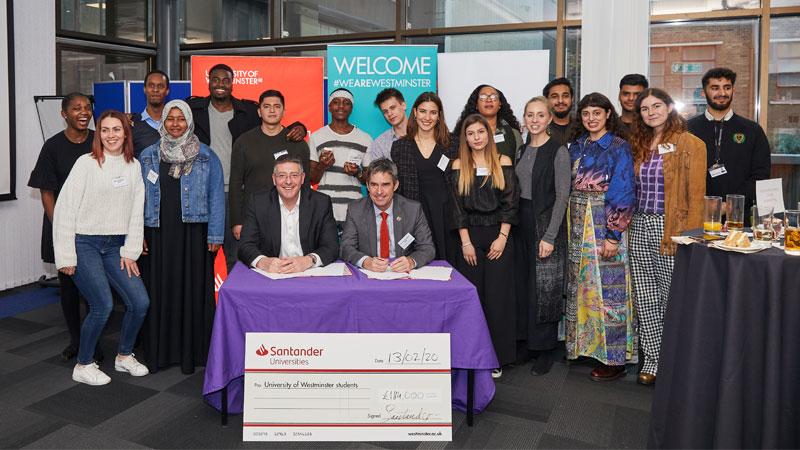 The event was held to recognise the past 10 years of support from Santander Universities, and to celebrate their further commitment to three more years of funding.
Santander Universities has signed an agreement to provide £184,500 to the University which will aid the continuation of the Westminster Working Cultures (WWC) programme, the Big Idea Challenge, which is managed by the Creative Enterprise Centre, and bursaries for students.
The event provided the opportunity for Matt Hutnall, Director of Santander Universities UK, Kevin Bardwell, Santander UK University Relationship Manager, Mark Homans, Santander UK Senior Relationship Director and Tolu Shomoye, Santander UK Relationship Manager, to meet current students and alumni from the projects they had previously funded. 
The students from Westminster Working Cultures London, Westminster Working Cultures International, the Big Idea Challenge and the Santander Universities SME Internship Programme spoke to the representatives and senior Westminster staff about their experiences and how Santander's support had made transformational changes to their educational experiences and their overall development.
There were speeches from all parties, including a presentation from Rajan Borkhataria, who highlighted his experiences on the WWC trip he attended. He was extremely thankful to Santander and expressed how the funding exceeded his expectations and contributed to his growth as a Westminster student. 
Event attendees were also presented with the first showing of a 'thank you' video produced by former Westminster student Riaz Gomez, highlighting the difference Santander funding has made to students. The video was highly regarded by attendees and will be put forward for a CASE Circle of Excellence Award later on in the year. 
Finally, there was a ceremonial signing of the agreement between Santander Universities and the University of Westminster before the student beneficiaries and senior staff. 
In his welcome address, Dr Peter Bonfield, Vice-Chancellor and President, said: "Today we are celebrating our brilliant students, and our generous, enlightened and innovative sponsor who for ten years has been helping many of our students travel internationally, with scholarships and financial support for their work, and get into the area of creative enterprise so they can set up their own businesses.
"We are celebrating Santander being a strong supporter of the types of things we stand for as a University. Today's about celebrating success."
Director of Santander Universities UK, Matt Hutnall, added: "We are delighted to support the University. We are helping students that have got ideas, but helping turn those ideas into reality, and from there we can help as a bank as well with our expertise in SME development."
Head of Development at the University of Westminster, Jordan Scammell, added: "We are incredibly grateful for the support Santander Universities has provided to our students over the past ten years, and are encouraged by the new three-year agreement signed at the celebration event.
"Their support will ensure we can provide more international travel experiences to those who wouldn't otherwise have the opportunity, support students during times of financial difficulty, and help students to launch their businesses and social enterprise."
To find out more about how you can support these projects, please email [email protected]
Watch the 'thank you' video showcased at the Santander event.