On Saturday 14 September, Westminster's School of Architecture + Cities hosted a one-day conference organised by the C20 Society entitled 'Remembering Gavin Stamp'.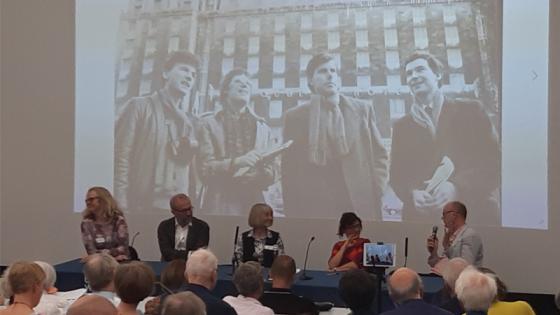 The conference served the dual purpose of celebrating the 40th anniversary of the Society and also paying tribute to one of its founding members, the late historian and critic Gavin Stamp.
Speaking at the conference were a number of well-known writers and broadcasters including Simon Jenkins, A.N. Wilson, Rowan Moore and Jonathan Meades, who shared their memories of Stamp as both a colleague and a friend.
The event remembered Gavin Stamp's outstanding contributions to architectural history and his lasting legacies, particularly to the built environment conservation. 
Alongside presentations throughout the day, the event featured a number of excerpts from Stamp's many television programmes and readings from his Private Eye column, 'Nooks and Corners'.
Speaking about the event, Dr Kate Jordan, Senior Lecturer from the School of Architecture + Cities, said: "The conference was a warm and insightful tribute to an utterly unique voice in the field of architectural discourse. At a time when built environment conservation faces increasing pressure, the event offered hope that Gavin's legacy would continue to drive successful campaigns."
Since its foundations, the C20 Society has worked to protect the heritage of architecture and design in Britain and has saved remarkable buildings such as the Bankside Power Station which now stands as the Tate Modern, Britain's number one tourist attraction.
Learn about Architecture + Cities research at the University of Westminster.