The Graduate School at the University of Westminster is hosting a week-long online festival to celebrate the diverse and innovative doctoral research taking place at the University of Westminster from 17-21 May 2021.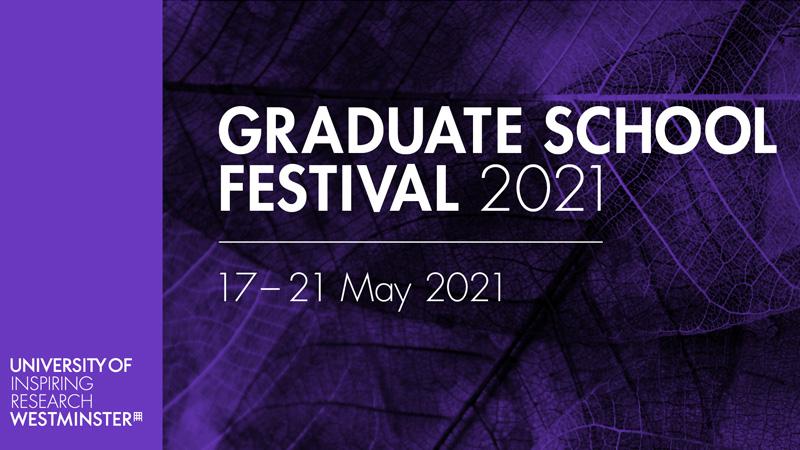 Throughout the online festival, a wide range of events and activities will take place to showcase the doctoral research taking place within the Graduate School to the University's community of students and colleagues, and to the wider world. 
Each day from 17 to 21 May there will be live events hosted online, plus a full programme of activities including doctoral research film screenings, in discussion events, podcasts, the GS 3MT competition, a 'bake your PhD' competition and a twitter takeover which will see the Graduate School's doctoral researchers tweeting about their experiences, interests and what makes their research unique.
The festival will launch with a live session led by Dr Hugh Kearns of Flinders University, Adelaide. Hugh is known internationally for his work as a public speaker, educator and researcher. Hugh's twitter account is a favourite with research students, well known for motivational and supportive guidance on thriving during the PhD journey.
Friday's closing event will be 'In Conversation with Dr Orna Rosenfeld', who is a doctoral graduate of Westminster and has recently won a Study UK Alumni Award for her outstanding achievements and the social impact of her research. Dr Rosenfeld will discuss a variety of topics, including strategies for doctoral researchers to use for developing a satisfying and successful post-doctoral career.
Talking about the festival, Professor Leigh Wilson, Director of Westminster Graduate School, said: "This week of workshops, panels, screenings, competitions, exhibitions, talks and much more has been created to show peers and colleagues at the University and people beyond it the brilliant research being done by doctoral students here at the University of Westminster. This research is in the process of changing lives, minds and the world!"
Find the full programme and booking links on the Graduate School Festival website.