On 31 May, the 'Linguistics in Modern Foreign Languages' project, led by academics from Westminster, Anglia Ruskin, Birmingham, Bristol and Cambridge universities, held a conference at Anglia Ruskin University, funded in part by the Philological Society.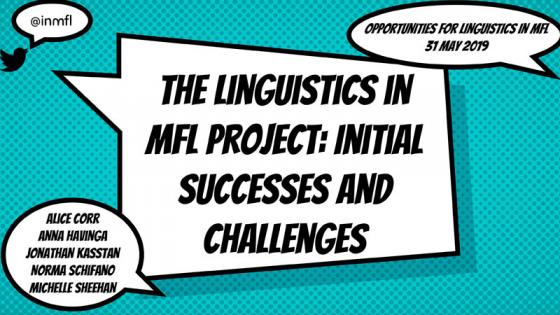 The conference entitled: 'Opportunities for Linguistics in the MFL Curriculum' brought together stakeholders affiliated with exam boards, publishers, advocacy groups and schools to present findings from the project so far and to explore outcomes of comparable studies situated in an international context. Discussants at the event included Bernadette Holmes, Director of Speak to the Future, Dora Alexopoulou, Editor of Language, Society and Policy, Rhona Thompson, Curriculum Manager for Languages at AQA, Susan Stewart, Head of Multilingualism at International School of London, and Maria Arche, Director of Centre for Research and Enterprise in Language, University of Greenwich.
The 'Linguistics in MFL' project assesses the potential for the inclusion of linguistic topics in the Further Education languages curriculum. It aims to engage students with linguistics and deepen their interests in language, including its historical, cultural and social reflexes. The project looks towards taking action to address the broader 'languages crisis', including the declining number of pupils taking languages in schools and at university. New approaches and material are being proposed for languages teaching at A-level to motivate interest among pupils and capitalises on their existing language competency and skills acquired elsewhere on the curriculum.
The conference provided a forum for discussing current problems associated with languages teaching in the UK and how greater engagement with linguistics as a discipline could address them. Speakers included Teresa Tinsley from Alcantara Communications, who gave a talk on 'Languages in schools: where we are now and how we got here', and Chris Pountain from Queen Mary University, who discussed the topic, 'Where has all the grammar gone?'
Dr Jonathan Kasstan, who attended the conference on behalf of the University of Westminster, said: "This was a very engaging and thought-provoking event. We were fortunate that school teachers were able to dedicate some of their time to attend and present their motivations and findings, having participated in our project. Not only was it touching to hear that pupils who had participated in our project have become more interested in linguistics and languages as a result, but also that it offered teachers the opportunity to re-think their approach to teaching languages. The project's team will now seek to upscale our work in light of our findings."
Find out more about the project's findings so far.
Find out more about the range of language courses offered at the University of Westminster.