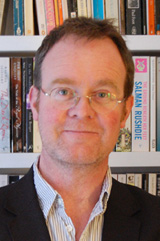 David, an award-winning author of a history of Radio 4, has written and will present Rewiring the Mind, which is due to run nightly on Radio 3 from 14-18 June. The broadcast will occupy the late-night The Essay slot, which the BBC describes as being designed for "distinguished artists and thinkers and emerging voices".
The new series is based on research David has been conducting over the past year at Cambridge and Yale universities and will mark his debut as a programme presenter. Each programme, consisting of a 15-minute talk, will be themed around five distinct periods of media development in the modern era.
"It's quite a challenge to be given the whole week of the slot, rather than just one programme," said David, who describes himself modestly as an "emerging voice, rather than a distinguished one".
"The series is based on research I've been conducting over the past year looking at ways in which modern media have re-ordered our ways of thinking."
Under the titles The Ethereal Mind and The Cultivated Mind, David will explore how radio influenced ways of thinking in the early part of the 20th century. The last three programmes, The Anxious Mind, The Fallible Mind and The Superficial Mind, will consider the impact of TV and the internet on society's consciousness as the last century gave way to the new one.
David is currently also working on a new book, provisionally titled Media and the Making of the Modern Mind, which will be based on the same body of research. Life On Air: A History of Radio Four, his acclaimed last work, won the much-coveted Longmans History Book of the Year award in 2008.
A former BBC radio producer, David is a Reader in Media and Communication within the Communication and Media Research Institute (CAMRI) at the School of Media, Arts and Design.