Specialised Translation MA students, Sandra Thiel and Tianna Woolf, have been awarded the 'Pamela Mayorcas Award for Scientific and Technical Translation'.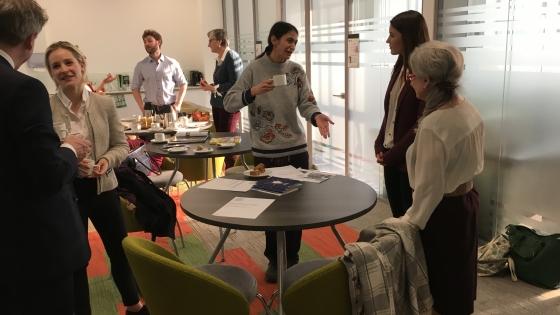 Sandra Thiel and Tianna Woolf were presented with their awards by Pamela Mayorcas at a small prize giving ceremony at Regent Street Campus.
The award is open to full-time and second-year part-time students studying on the Specialised Translation MA and the Translation and Interpreting MA courses with English as a target language.
This is the third year that Pamela Mayorcas, an alumna of the University and Fellow of the Institute of Translation and Interpreting (ITI), has funded the award. It is intended to offer financial support towards the field in which students are required to carry out research as part of their course.
Sandra Thiel who received funding towards her project as part of the prize, said: "I would like to thank Pamela Mayorcas and the panel members for providing students like myself with additional resources to aid the translation of scientific and technical studies.
"My MA translations project, the subject of which is refugee mental health interventions following resettlement, will benefit hugely from this award, as it affords me the opportunity to travel and to engage further with mental health organisations, and with that to elevate my translation skills to a higher level. Thank you again for this award, I feel greatly honoured to be one of the fortunate recipients this year. Its prestige and importance will enhance my CV greatly."
Pamela Mayorcas, who completed her diploma at Westminster in the late 1960s, said: "I was so happy to meet Tianna Wolf and Sandra Thiel and to present them with their certificates. By their submissions and subsequent research, Tianna and Sandra have perfectly demonstrated that they understand the need to locate and use original sources in order to produce a first-class translation of a highly-specialised text."
Speaking to the students during the ceremony, Pamela stated: "The translator has to be almost like a magician who has to put himself or herself into the shoes of the author of the source text. You have to replicate the author's message, in the target language, so that your text reads as if it's been written by a native language speaker of the target language. That's the trick, hard to achieve and only possible by applying yourself with empathy and understanding. Just translating word-for-word doesn't cut it."
Find out more about the Department of Languages at Westminster.