Two students from the University of Westminster have been chosen for The Howard de Walden Estate scholarship, which helps to fund estranged students' accommodation fees.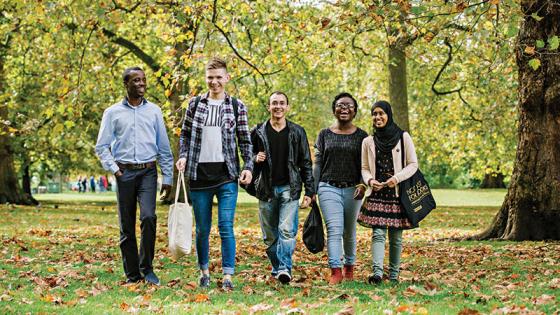 The Howard de Walden Estate is the freehold owner of most of the buildings in the 92 acres of Marylebone, Central London. The business is rooted in the local community and is committed to a long-term investment strategy. 
This is the second year Howard de Walden has supported students at the University of Westminster. Based on the success of last year's singular scholarship, they have decided to increase their support to two scholarships this year, with funds now totalling £27,000. 
The scholarship applies to final year students in order to help them to reduce their part-time working hours during their final year so that they are able to fully commit themselves to their studies and stand the best possible chance of success. 
To qualify for the scholarship, students have to be estranged from their families and complete a written application which includes a personal statement explaining how and why they are estranged, explaining their concerns and how funding would help to support their studies. The top three students are then shortlisted by the University, after which the Howard de Walden Estate selects the final two.
Jordan Scammell, Development Team Manager at the University, said about the scholarships:  "Leaving the security of the family home or the familiarity of school can be a daunting time for any student, but for those who have become estranged from their families, the financial and emotional pressures are often greater. 
"This generous and life-changing support from The Howard de Walden Estate will help to alleviate the financial and personal barriers which may have otherwise prevented these students from reaching their true potential on their course. I'd like to say a massive thank you to Howard de Walden for supporting some of our most vulnerable students"
Jessica Davison, a Psychology BSc Honours student and one of this year's recipients, said about the scholarship: "Thank you very much for this amazing opportunity. It is incredible and will definitely change my experience at the University of Westminster in my final year.
"I can now focus more on achieving my objectives and study even harder to achieve greater results. I don't have the words to say how grateful I am to The Howard de Walden Estate."
Jenny Hancock, Place and Community Director for the Howard de Walden Estate, said "The Howard de Walden Estate is committed to supporting its community and helping it continue to flourish. Supporting local students is part of this programme and it has been a pleasure to work with the University of Westminster, and Jordan in particular, to help realise these ambitions.
We are delighted that we are able to support two students this year and wish them both the very best for their final year of studies".
If you would like to find out how you can support students like Jessica, please contact the Development Team at [email protected].