Two students from the MArch Design Studio 18 (DS18) were interviewed by prominent architecture blog KooZA/rch to talk about their design projects they have created during their time at Westminster.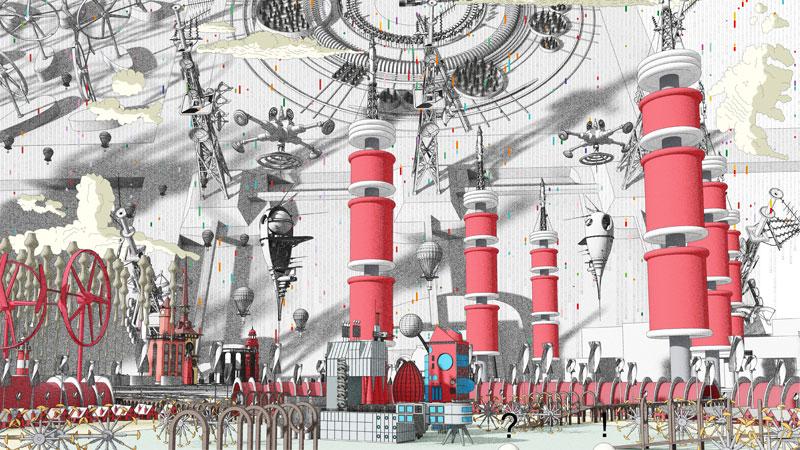 In the interview, second year MArch student at Westminster Jamie Williams spoke to KooZA/rch about his project 'The Didactic Kingdom Of Nowhere in Particular' which investigates sea air and land legislations in the Arctic.
Williams' design is a statement structure which represents a peaceful and self-sustaining anti-oil protest operating within international waters as a sovereign island state to mitigate the current territorial negotiations in the Arctic. He uses mapping techniques, game theories and speculative floating mega-structures as satirical and political statements to illustrate the economic fight in the region and the disregard for the environment during the climate crisis.
Discussing the role of architecture in contemporary society, he told KoozA/rch: "I believe that we can be far more imaginative and radical as architects in the fight against climate change. Innovations in design and thinking, historically speaking, tend to occur in response to a crisis, that is when design is at its most wildly inventive when no other option is available. 
"If the project were to be built, theoretically it would be a major turning point in the fight against climate change, not only in regards to a reduction of carbon extractions but more so as a provocative statement towards western economic models that we cannot continue towards this carbon-fuelled myth of unlimited economic growth."
2020 MArch DS18 graduate Kate Hosking also spoke about her project entitled 'Black Ice Forum', which formats a plan to address the issue of black carbon emissions and its detrimental effects on the melting arctic ice and global warming as a result. 
Through this project, Hosking aimed to utilise architecture as a climate marker within the shifting landscape of sea ice, and to humanise global warming through blurring the boundaries between architecture and landscape. She also hopes that her project will bring the detrimental issue of black carbon to the forefront of climate summit discussions through the implantation of new policies, a new measure of GDP based on environmental factors and black carbon credits.
Talking to KooZA/rch about what questions the project raises, Hosking spoke about the importance of making this invisible phenomenon visible, how the global impact of black carbon can be expressed through architecture and what can be done to bring it to the forefront of climate policy. 
She added: "The project explores a research and data-driven approach to designing in order to create architecture that is shaped by physical context. For example, in this project the architecture becomes a climate marker; if action is taken and global warming starts to reverse, the building will become more engulfed in sea ice, whereas if action isn't implemented properly or urgently the building will become more exposed for longer periods of time."
Find out more about Architecture, Interiors and Urban Design courses at the University of Westminster.
Learn more about Design Studio 18 at Westminster.