Tumpa Fellows, a Senior Lecturer in Architecture, has conducted research fieldwork in Bangladesh to understand communities' immediate responses and adaptations to the changing climate.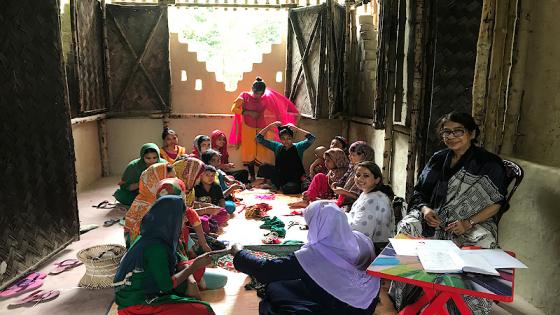 The research, supported by the Global Challenges Research Fund, was conducted in the remote village of Rajapur in Bangladesh with low income communities in high risk areas. The aim of the research is to assist in building support systems for the most vulnerable to enable self-sufficiency and resilience, to adapt to the changing climate in Bangladesh. The Mannan Foundation Trust assisted in the project by providing the opportunity to work with the Rajapur community.
Fellows hosted several workshops to provide a platform for the communities to collaborate, engage, disseminate and participate, to work towards improving local responses to the extreme climate. The research activities revealed the diverse methods of measuring the climate and how the different methods impact the understanding of a place, the climate and the landscape. 
The activities involved the participants' collective drawings of each season, the cultural practices associated with the changing climate and the impact of extreme climate on the lives of the communities. They also improvised designs of objects for their homes through sharing their skills of embroidery, basket weaving and making that were transformed into devices/architectural interventions which respond to extreme climate change.
An example of the devices consists of a frame made out of bamboo enclosing a thin mesh that captures droplets from the high humidity in the air. The water collected can be used for irrigation and assists in growing food in the extreme climate. 
The study highlights the unequal distribution of responsibilities and the greater burden on women in the community to respond to the threats of extreme climate. 
Fellows said about her work: "What was most successful was the use of innovative, improvised participatory design methods, creating platforms for all to contribute and collaborate, by giving voice to all, challenging the complex social hierarchy and gender and income in-equalities that exists in the Rajapur village." 
Speaking about how her research informs her work at the University, she said: "My teaching here at Westminster is informed by my research where the students are encouraged to research and shape the future of the practice of Architecture by experimental design through collective adaptations to the changing climate and social transformation."