The University catering service Aramark has won the Green Kitchen Standard Award for the second year running for their sustainability ethos across the University.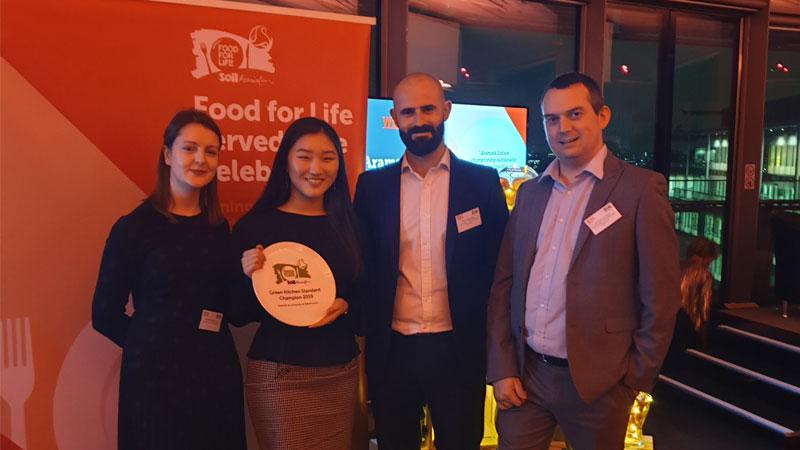 In 2018, the University was the first London university to achieve the standard. On 15 October, it won the Green Kitchen Standard Champion 2019 award at City Hall, meaning that Westminster received the highest score of every institution who achieved the standard this year, with the catering team scoring 86 per cent.
The award was achieved for the University's four campuses, which serve meals to over 20,000 students and 2,000 staff each day. 
The Green Kitchen Standard Award is accredited by The Social Association, the UK's leading membership charity campaigning for healthy, humane and sustainable food, farming and land use. The award recognises caterers that are making positive steps to sustainably manage their energy, water and waste. For customers this means eating somewhere that they know are going further to ensure they minimise their environmental impact. 
Caterers must prove their environmental credentials and provide a clear point of difference to set their service apart from the rest, which can mean cost savings as well as aligning with energy, water and waste requirements of the Defra Plan for Public Procurement and the United Nation's Sustainable Development Goals.
Dain Son, the Corporate Social Responsibility Ambassador for Aramark, said about the award: "The Soil Association's Green Kitchen Standard assesses sustainable catering operations within the UK, focusing on energy, water and waste. The application and inspection process strictly requires for us to present clear evidence on any claims we make, making sure our sustainable operating procedures are completely transparent.
"Given the high standards of the Green Kitchen Standard, which is based on our University Vice-Chancellor's governmental report for sustainable food production, consumption and procurement, it is truly rewarding for us to have achieved the highest sustainability standard in all of the UK for the second year in a row. It greatly reflects on our commitment and passion towards sustainable practices within the kitchens from the catering side, as well as the University's passion towards contributing to the United Nation's Sustainable Development Goals."
Learn about Corporate Social Responsibility at the University of Westminster.