On 12 February the Level Up Westminster Volunteering and Work Experience Fair returned with a visit to our Little Titchfield Street Campus.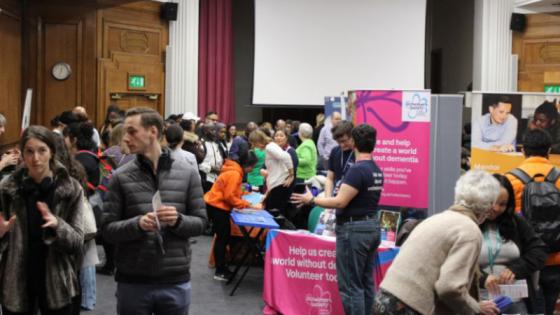 The Student Volunteering Service and Students' Union organised the event as the centre piece of Student Volunteering Week 2020. With 30 different community and volunteer charities attending the event, students were able to speak directly with charity representatives and explore opportunities to volunteer alongside their studies. 
The charities covered a wide range of subjects from Law, Sociology, Health, Arts, Education, History and Social sciences. These included Citizens Advice Witness Service, Refuge, Housing for Women, Alzheimer's Research UK, Black Cultural Archives, Bow Arts, Music Relief Foundation and more. 
The Student Volunteering Service focused the fair on providing students with the University's five key attributes of personal and professional development, known as the Graduate Attributes. These are 'global in outlook and engaged in communities', 'socially, ethically and environmentally aware', 'literate and effective communicators', 'entrepreneurial', and 'critical and creative thinkers'. The organisations in attendance aim to help students achieve these attributes.
The Student Volunteering Service is part of the Corporate Social Responsibility Team at the University, who deliver programmes and activities that provide a whole institution approach to social responsibility and making a measurable change for good to the well-being, health, culture and progression of students, colleagues and local and international communities. 
Nguyet Luu, a Teaching English to Speakers of Other Languages MA student, said about the fair:  "The Level Up Volunteering fair 2020 is such an informative and engaging event as I was able to learn more about different vulnerable communities and find out how I could help."
Learn more about Westminster Corporate Social Responsibility on the Change For Good blog.