The Global Legal Hackathon returned to the University for 2020, where it was hosted at our Marylebone Campus.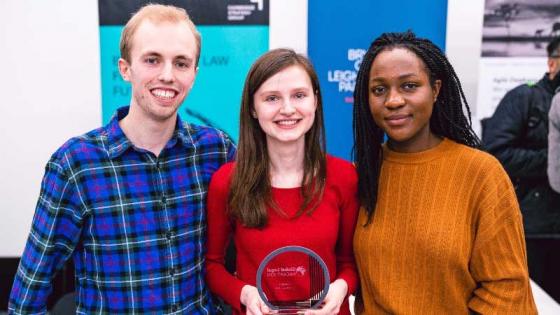 The Global Legal Hackathon is a global event encouraging lawyers, technologists, entrepreneurs, designers and more to come together and create new technology-enabled solutions for contemporary legal problems. The multi-disciplinary teams build and launch mobile, web apps or any other innovations aimed at solving a particular problem, with the goal to come up with a prototype or proposal at the end of the hackathon to present in front of a panel of judges. 
In 2018, the hackathon had 40 cities developing legal solutions simultaneously across six continents and 2019 had 47 cities and thousands of participants globally. 
Whether it is accessing legal services or enabling them with back-office solutions, teams compete to develop concepts during the course of a weekend and present the results to a judging panel to go through to the next virtual competition round on 22 March. This year the finals will take place in London.
The Hackathon took place at our Marylebone Campus in the 300-seat Hogg Lecture Theatre from Friday 6 March to Sunday 8 March. It was organised by the University of Westminster, Cambridge Strategy Group and Agile Elephant with sponsors including White & Case and BCLP with support from The Law Society of England and Wales, Disruptive Live, Techcelerate and the Solicitors Regulation Authority.
Seven team presented their solutions, including supporting entrepreneurs to access legal documents to making small business debt recovery affordable. This year included an inclusivity challenge component spearheaded by organisations She Breaks the Law, RSG Consulting and global law firm BCLP in conjunction with International Women's Day. The challenge was to create a solution or innovation that increases equity, diversity, and inclusion in the legal industry in new ways. 
The 2020 winners of the Inclusivity Challenge were Magic Box, a platform to address the bias of legal work allocation in the legal industry, ensuring the opportunity for work to be allocated to legal professionals based on, for example, experience, availability, and capacity without influence of gender, location, or ethnicity.
This year's winners of the London Hackathon are Homiie, an AI and blockchain enabled application to support conveyancers and buyers in real estate transactions. They will go through to a global (virtual) semi-finals on 22 March, after which the finalists will be announced and invited to the gala finals in London.
Fraser Matcham, Director of Legal Innovation at the University, said: "Congratulations to this year's winning teams and the other teams that presented their solutions."
Find out more on the Global Legal Hackathon London website.