With the mid-term congressional elections in November threatening to weaken the Democratic Party's position in both Houses, at a conference sponsored by the Centre for the Study of Democracy in the Department of Politics and International Relations, the Cultural Office of the United States Embassy in London, and the Eccles Centre at the British Library on 14 May 2010, seven leading academics discussed how the early Obama presidency has shaped up so far." 

The Centre for the Study of Democracy was established at the University in 1989 and has since grown to become a major international centre for intellectual reflection and engagement on issues relating to democracy, civil society and democratisation processes.
John E Owens, University of Westminster - 'The Early Obama Presidency' 
Keynote

George C Edwards, Texas A&M University - 'Strategic Assessments in the Early Obama Presidency'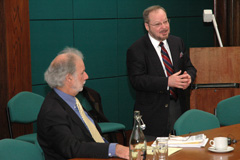 View the video
Following the theme of his recent book, The Strategic President: Persuasion and Opportunity in Presidential Leadership, Edwards outlined the strategic context in his keynote address, emphasising trends in ideological identification in the US, the intense partisan polarisation, and voters' evaluations of Obama and the two parties, and their positions on major issues.
Stephen Wayne, Georgetown University - 'Obama's Personality and its Impact on his Presidency'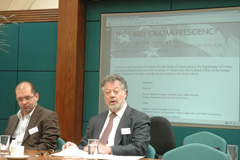 In his presentation, Wayne emphasised the role of personality in evaluating a president: "It is not the only factor that affects their thinking, speaking, deciding, and interacting, but it is relatively constant and always relevant." His paper examined how aspects of Obama's character explain his political beliefs and his way of interacting with others, and how those beliefs and style have affected his judgment to send additional US forces to Afghanistan and to proceed with comprehensive health care reform after Democrats in the Senate lost their 60-seat majority.
James P Pfiffner, George Mason University - 'Organizing the Obama Presidency'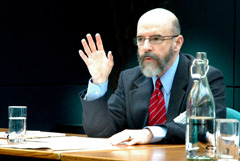 Pfiffner's paper considered some of the tensions inherent in Obama's White House organization, particularly relations with the cabinet, White House "czars," and the role of the chief of staff, and how those tensions affected decisions to back off of his early commitments regarding Guantanamo and detainee policy, the decision to escalate the war in Afghanistan, and the changing tactics in his campaign for health care reform. Pfiffner concludes that the Obama White House, like the president himself tended toward centralization of control, careful deliberation in decision making, and moderation in policy preferences.
Gary C Jacobson, UCLA- San Diego - 'Obama's Evolving Public Support'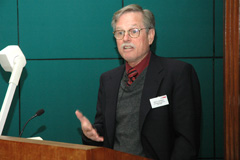 Like his immediate predecessor, Obama entered the White House with aspirations to bridge the wide partisan divide that had emerged in US politics over the final decades of the 20th Century. In his paper, Jacobson shows how the new president has failed conspicuously to do so. After a brief moment of post-election euphoria, and thanks largely to resolute Republican opposition and obstruction as their main strategy for party revival, not only have popular evaluations of Obama's job performance trended downward, more significantly, the wide partisan differences in presidential approval typical of Bush's final years quickly reappeared under Obama.
John E Owens, University of Westminster - 'Negotiating a Polarised Congress under Single Party Government'
Owens' presentation set out the positive and negative aspects of the strategic context that faced Obama in relation to his legislative priorities. Clear in his legislative priorities during his campaign, he has been less clear since. Much more respectful of the Congress and its ways of doing business than his predecessor, Obama has relied heavily on congressional Democratic leaders to deliver his ambitious agenda and effectively abandoned early aspirations towards bipartisanship. Partisanship has yielded some major legislative victories, notably on an economic stimulus package and health care reform. While Obama has exerted legislative leadership, clearly he has not been as successful as some of his predecessors, partly because of his own behaviour but also because of his ambitious agenda and the difficult strategic context in which he has sought to exert leadership.
Richard M Pious, Columbia University Prerogative Power in the Obama Administration: Continuity and Change in the War on Terrorism
The focus of Pious' paper was the so-called "war on terror", instigated by George W. Bush following 9/11. Pious examines the extent to which presidential use of prerogative powers shifted following Obama's inauguration in 2009. His paper describes and attempts to assign causes for both the continuities and changes in the assertion of prerogatives in the "war on terrorism,"focusing on leadership style and rhetoric, electoral coalitions and regime consolidation, clientelism in the Department of Justice, and "prerogative time." Despite campaign rhetoric and criticism of Bush's policies, Pious concludes, since entering the White House Obama wound up taking the low-hanging policy fruit (torture), stalling on what had seemed low-hanging fruit but turned out to be poisonous apples (Guantanamo and military tribunals), and turning away from change that could ultimately bite him and others in his administration (mechanisms for accountability).
James A Thurber, American University - 'Changing the Way Washington Works?' President Obama's Battle with Lobbyists
The final paper by Thurber explores the causes, characteristics, and consequences of President Barack Obama's attacks on lobbyists and his attempt to "change the way Washington works."  Thurber argues that Obama's lobbying reforms, his effort to change the way Washington works, boil down to three basic principles of sound government: transparency, accountability, and enforcement. He concludes that the lobbying regulation instituted falls far short of fulfilling these three basic principles. Lobbying disclosure, has been limited while Obama's attempt to reduce conflicts of interest has seriously restricted those with expertise from serving as appointees and on government advisory panels. Accountability and compliance with the law, let alone strong ethical norms, has been spotty and often completely dependent on media investigation and reporting of questionable behavior. Thurber's explanation for the limits of these reforms rests on the constitutional and political reality of Washington, which  has so far hobbled Obama's ability to bring major change to the way decisions are made.  Even so, some of the reforms have helped Obama's governing strategy.
The papers will be published in late 2011.