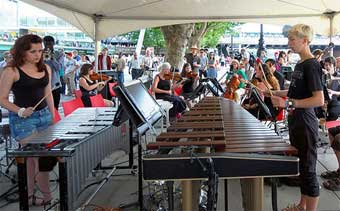 John and an ensemble of 40 orchestral musicians, voices, Japanese Taiko drummers and jazz soloists gathered on Saturday for the annual Flood Tide – See Further Festival of Science at London's Southbank.
It was the tenth time John has turned the power of the tide into music at Flood Tide but represented his most ambitious project to date as it attempted to 'harness' the entire incoming tide lasting six hours.
"Although this process of converting tidal flow into notation that appears on computer screens has been well tested previously there were many unknowns about how the event would work over such a long duration," said John.
"The endurance of performers and audience had to be considered, as well as the challenges of writing the computer processes which convert a single, gradually changing value – the speed of the tidal flow – into music that is interesting to listen to."
John and his team overcame these challenges to create music that ranged from a slow beginning featuring double bass, marimba and bass clarinet into a dramatic climax at the tide's most powerful point, featuring orchestral musicians, jazz soloists and a 40-minute drum solo by Moses Boyd.
The performance took place in front of a large audience outside the Royal Festival Hall as part of the celebrations for the 350th birthday of the Royal Society. Dr Eacott is a principal lecturer in music in the University's School of Media, Arts and Design.