Read about the experiences of Amber, Eridan and Miroslava.
Amber Shafi working in a laboratory
Amber Shafi – Summer Studentship funded by the Biochemical Society
I am very grateful and fortunate enough to have had the opportunity to gain work experience in the summer. My summer project involved having to investigate the effects of oxidative/nitrosative stress on the surface of platelets. My third year project also involves the oxidative/nitrosative stress but I am now investigating the effect of these stress compounds on fibrin polymerisation. Because of the studentship my laboratory skills have immensely improved by practicing different lab techniques and coming in contact with equipment I had not used during my degree so far. I have even been fortunate enough to culture MEG-01 megakaryocyte cells. I am now much more confident in carrying out dilutions and measuring out solids and liquids more accurately. The practical skills that I have learnt and practiced have certainly helped me carry out my third year lab project work with much more confidence and knowledge in the haematology field. Previously, dilution work was my greatest weakness, however with much practice over the 8 weeks studentship perid I am now able to understand how to carry out dilutions much better. I have enjoyed working in Dr. Gordge's lab with other researchers and I hope that my contribution has been useful in highlighting possible future areas of research for PDI activity. I would like to thank the Biochemical Society, Dr. Gordge's and post doctoral scientist Dr. F Xiao for providing me with the opportunity to gain such an invaluable work experience.
Electron Microscope image of Alzheimer's
Amyloid-ß 17-40 fibrils binding to Catalase.
Eridan Rocha Ferreira - Summer studentship funded by The Wellcome Trust and the Nuffield Foundation

I successfully applied for a summer studentship project in Dr Nathaniel Milton's laboratory. I was extremely interested in understanding the mechanisms underlying neurological pathology. Using Amyloid fibril interactions with proteins as a model I looked for compounds that prevented interactions by binding to the fibrils. The study identified a number of active compounds of relevance to Alzheimer's, Creutzfeldt-Jakob Disease and Diabetes which I understand are being further characterised. One of the compounds will be the subject of a forthcoming paper on which I will be a co-author. Taking part in this research into the treatment and diagnosis of neurodegenerative disorders was an invaluable experience. It has bolstered my scientific skill set and helped shape my future career prospects. This opportunity has convinced me to pursue a research career after I graduate.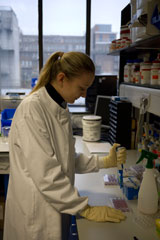 Miroslava in a laboratory
Miroslava Mihalkova - Summer studentship funded by The Wellcome Trust
I consider it a great honour to be awarded a scholarship and spend time in the research group led by Dr Stephen J. Getting. This opportunity has allowed me to gain an insight into one of the career pathways that I am considering after completing my undergraduate studies.
This scholarship has enabled me to understand what it is like to work as a research scientist, to design, carry out and evaluate experiments in order to gain evidence to support or dismiss a hypothesis. I have also learnt a great deal about arthritic diseases, the cellular and subcellular mechanisms underlying the progression of these illnesses and how we can use pharmacological therapy in order to alleviate the morbidity accompanying arthritis. The peptides evaluated demonstrated were able to modulate pathways activated in osteoarthritis and thus maybe promising novel treatments for this pathology and this evidence gives one satisfaction and meaning to this work.
I find learning as such very exciting and this scholarship enabled me to learn a great deal of new information and techniques. Starting from the first day onwards, I improved my ability to carry out various techniques such as Western blotting, ELISA, confocal microscopy, tissue culture of which previously I had had more theoretical rather than practical knowledge.