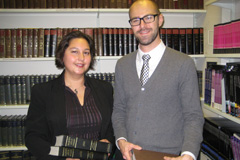 Teams of Westminster students took part in the regional finals of the National Negotiating Competition in Birmingham. A total of 16 teams were competing so congratulations to Zee Gaines (GDL) and Martin Cubasch (LLB Commercial Law) who won the event.
Leicester University were second and Bristol University finished third. Mona Muenning and Hannes Lenk (both LLB European Legal Studies) also did very well but did not make the top three ranking required to qualify.
Zee and Martin now go on to the finals at the beginning on April in London. The teams were coached by Graham Robson.