As part of the University's COVID-19 Appeal, the Development Team was delighted to secure an additional £16,000 from Sir John Cass's Foundation in May 2020 towards Care Leaver Completion Bursaries for our care leaver students.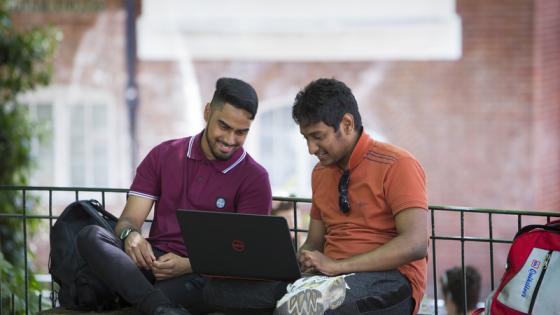 The financial support is an extension of the Foundation's original pledge of £10,000 in 2020 which has already been allocated to five care leavers. The additional funding will ensure that a further eight care leaver students can receive Completion Bursaries, enabling equality of provision and a level playing field for all. This funding will help ease the financial burden during the coronavirus crisis, and what is proving a difficult and challenging time for the University's most vulnerable students.
The University of Westminster has been providing Care Leaver Completion Bursaries since 2017 when it elicited a three-year grant from Sir John Cass's Foundation. The bursaries help Westminster's care leaver students when they need it most, such as during their pre-finals revision period and through the summer to help ease post-university transition and independent living for students so that they can reduce part-time work and fully focus on their studies.
Care Leaver Completion Bursaries are awarded to students who have previous experience with the care system and who are in their final year of undergraduate study at the University. They are used to cover costs such as accommodation, living expenses, food, bills, graduation costs, gown hire and interview clothes. 
Sir John Cass's Foundation was galvanised into action after a direct appeal from the University, as the impact that the coronavirus pandemic was having on its vulnerable students became clearer and further action needed to be taken. 
Previous recipient of the bursary, Law with French Law LLB Honours student Hifza Jan Zeb, said: "The bursary allowed me to stop working for the last few months of my finals to focus 100% on my studies which proved invaluable. It also sustained me with food, and contributed towards my rent and utility bills and this relieved a heavy burden for me. The bursary 100% helped with my mental wellbeing. The financial support offset other worries so I could focus on my emotional stability and finishing my degree. You have really helped to change my life!"
Richard Foley, Chief Executive of Sir John Cass's Foundation, said: "In these extraordinary times we find ourselves in, the Foundation has been clear that we are committed to finding ways to best support our existing partners during and beyond this crisis. The Care Leavers Completion Bursaries are a great way of getting funds directly to those in need and make a real difference to the lives of these individual students." 
Jules Attanyake, Development Officer at the University of Westminster, added: "We have a strong record of pastoral care in supporting care leavers and this additional support has enabled us to further strengthen our provision. This will truly go a long way in helping our most vulnerable students at this time."