The organising group of Science4U and the associated Annual Schools Science Conference have been shortlisted for The Queen's Award for Voluntary Service.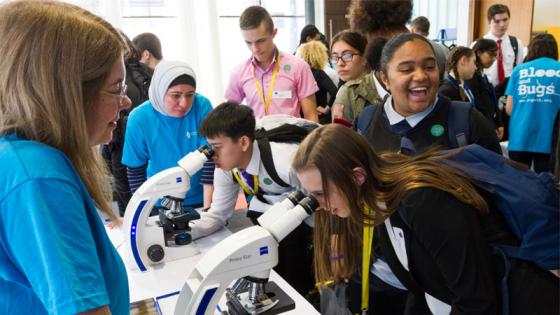 The first conference was held in 2003 encompassing a thematic programme, keeping pace with developments in the field of sciences. Since 2015, Science4U have collaborated with the University of Westminster and hosts the annual event at the University's Cavendish Campus.
The annual Science4U conference series that has been shortlisted aims to inspire pupils in school Years 9 to 11 across London to study science and showcase the array of varied careers available to those who pursue further education in science.
Science4U conferences offer a mixture of interactive stands and workshops to engage current pupils, with scientists and health professionals explaining the science behind what they do, the benefits for patients and health, career entry and progress pathways. 
The event is supported by over 100 volunteer scientists and health professionals to give their time, enthusiasm and knowledge. It is also supported by a number of small charities and professional organisations which help to make the event a success.
Last year, the University hosted over 50 scientific organisations who showcased their professions with hands-on activities, including Public Health England, who spoke about food microbiology, NHS Blood and Transplants who discussed kidney transplants, and Great Ormond Street Hospital who talked about gene therapy, antibiotic resistance and infection prevention.
The Queen's Award for Voluntary Service (QVAS) is the highest achievement given to local volunteer groups across the UK to recognise the outstanding work undertaken in their local communities and is the equivalent to an MBE. Winners receive a certificate signed by the Queen and a domed glass crystal. Representatives from the group may also be invited to attend a royal garden party. 
Results for the award will be announced in June 2020.
Talking about the announcement, Kimberly Gilmour and Stuart Adams, Co-Chairs, said: "We are delighted to have been successfully shortlisted for a Queens Award for Voluntary Service. This  achievement is not only in recognition of the work of Science4U.info to inspire students to study science and showcase the many careers in healthcare science, but also the work and support of all the volunteers who provide the programme, the schools who attend, and our collaboration with the University of Westminster's Outreach Team and their academic colleagues."
Find out more about Science4U.