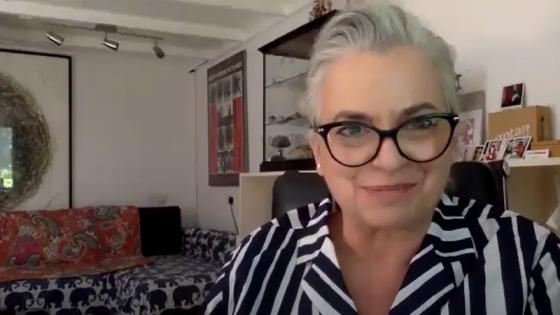 The lecture is part of a series of inspirational talks called Leadership in Times of Crisis, which uncovers the stories behind how people in the music industry overcome their biggest challenges. 
During the lecture, Gross spoke to Remi Harris MBE, a music funding expert and business consultant, where she discussed her experiences of managing music businesses during the 1990-1991 economic crisis and how that may connect to 2020. She also spoke about the relevance of a feminist economic understanding of music making as 'care work', feeding the internet and why digital production can be temporary and practitioners should be mindful about what they produce and release. 
Before becoming an academic in music at the University, Gross worked as an artist manager, A&R (artists and repertoire), label manager and business affairs consultant. She established herself during the recession of the 1990s as a mother of four children, finding ways to work collaboratively and collectively with artists alongside supporting her family. 
Gross articulates music as care work, involving love, community, communal and social activity that is about resistance to oppression, sustainability and sustaining ourselves. She highlights XL Recordings' strategy of producing just six to eight albums per year and giving them real attention, contrasted with the fleeting nature of online content. Gross argues that artists should treat what they issue with great care.
The lecture, which was streamed via Zoom, was organised by Brighter Sound and ended with a Q&A. 
Brighter Sound is a creative music charity working across the North of England, who deliver a programme of creative projects and events to support young and emerging musicians. They also deliver a broad programme for grass-roots music making opportunities for children and young people, supporting inclusive music-making as a founder organisation of Alliance for Musically Inclusive England. 
Gross said about the lecture: "We may not always learn from history but it is useful to help us think about how we are experiencing these difficult times and specifically in the creative industries and in my area of music, things are very challenging right now. Our relationship to music and importantly how we understand work has been considerably transformed by digital technology and in this talk I discussed how the current crisis has brought all aspects of the complexities of digital media sharply into focus. Music and the music economy has arguably been at the forefront of many of these changes and so it is good to think about how we and music and the planet will survive this crisis and what we might learn both good and bad about how we live and care for each other and the planet."
Find out more about the Music Business Management MA course.