The University of Westminster's on-campus cinema on Regent Street has re-opened and is now welcoming students, University colleagues and all viewers back.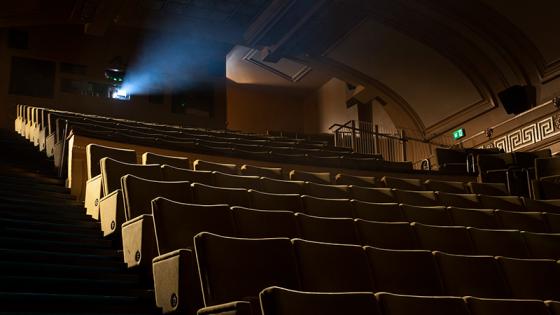 The new action-packed thriller movie, Tenet, is one of the films to be screening at the cinema. It tells the story of a secret agent (John David Washington) who is manipulating time to stop War III armed with just one word – Tenet. 
Over the next couple of weeks, Regent Street Cinema has leading ladies at the fore.
There will be two special screenings in partnership with the 64th BFI London Film Festival 2020. On 17 October the Cinema is screening Francis Lee's Ammonite starring Kate Winslet and Saoirse Ronan as well as Josephine Decker's Shirley starring Elisabeth Moss and Odessa Young on 9 October. 
The Guardian gives both films four stars, with Peter Bradshaw calling Ammonite "...an absorbing drama that sensationally brings together two superlative performers: Saoirse Ronan and Kate Winslet".  
This month sees Regent Street Cinema presenting a wide range of independent gems including:
Miss Juneteenth, starring Nicole Beharie as a former beauty queen winner and single mum who is preparing her rebellious teenage daughter for the 'Miss Juneteenth' pageant.
Miranda July's Kajillionaire staring Evan Rachel Wood and Deborah Winger.
I Am Woman which tells the story of 1970s feminist pop icon Helen Reddy, who sadly passed away last week.
The 2020 digitally re-mastered Japanese Anime AKIRA (1988).
Bolshoi Ballets' timeless performance of Romeo & Juliet. 
Regent Street Cinema has a rich history. It is seen as the birthplace of British Cinema, being the first place in the UK to show moving image to a paying audience. The beautiful art deco auditorium is also open to the public as a unique arts venue for screenings, lectures, workshops and events, and has become a landmark for film in the heart of London's West End. 
Social distancing measures have been put in place throughout the venue to adhere to government guidelines surrounding the coronavirus pandemic. The team at the Regent Street Cinema are committed to creating a safe and comfortable environment for both students and colleagues.   
Sarah Virani, Partnerships and Marketing Manager at Regent Street Cinema, said: "The Regent Street Cinema team is thrilled to welcome back university staff and students. Since our temporary closure back in March, we have been working away behind the scenes to upgrade our website and have created a programme that delivers the best independent and studio film line up. Regent Street Cinema is committed to creating a cinematic cultural destination where all stories can be shared and all voices can be heard. "
Find out more about the Regent Street Cinema.