On 18 December, the Regent Street Cinema hosted a Christmas event to celebrate the success of its Matinee Classics programme with a special screening of White Christmas.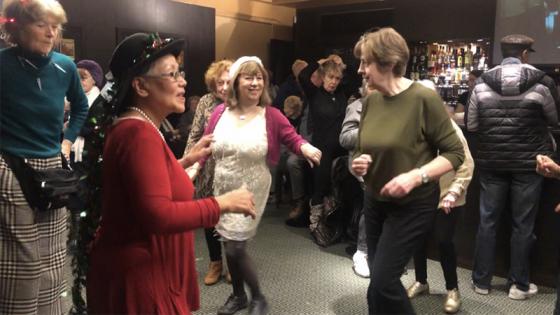 The event aims to recognise and celebrate the ways in which the Matinee Classic programme has helped to improve the quality of life in their regular attendees by helping to tackle social isolation. 
The afternoon began will an Organist playing classic music on the cinema's 1936 John Compton theatre organ. At midday David Vacher, the cinema's Associate Director of Commercial Services, presented a short speech to recognise the support of donors and the patronage of the attendees. 
Afterwards, the classic film screening of the day commenced with the 1954 film White Christmas, starring Bing Crosby and Rosemary Clooney. Lindsey Bowden, the Programme Manager, introduced the film, talking about its themes and context. 
A Christmas buffet was served at 2pm, along with mince pies for attendees and donors to enjoy.
At 2.30pm the attendees took part in the Dance and Movement workshop before a second screening of White Christmas commenced at around 3pm for those unable to attend earlier in the day. The event ended at 5pm. 
The Regent Street Cinema hosts regular Matinee Classic screenings on Wednesdays at 12pm and 3:30pm, with tickets priced at £1.75 for those over 55 years old. 
Matinee Classics attendee John, who travels from Bromley just to go to the weekly event, said: "I've been retired for eight or nine years and it gets you out, you meet people and enjoy your day and it's very sociable as such. Particularly in the winter when it's cold, dark and miserable, it lifts you and gets you out." 
Talking about the day on BBC Radio London, Programme Manager Lindsey Bowden said: "A lot of these people [who attend Matinee Classics] are on their own and sometimes it's the only social activity they get throughout the week and they've all become friends. They all talk to each other and see each other socially outside of the cinema, two of them [attendees] have even become a couple."
Jordan Scammell, Head of Development added: "If it wasn't for the generosity of our many supporters, this programme simply wouldn't be able to run and, regular attendees like John wouldn't be able to access their weekly fix of film, dance and a good old cuppa and natter! When I see first-hand, how much it lifts their spirits and wellbeing, it reminds me why this funding is so crucial. Loneliness doesn't just creep up at Christmas, it's all year round for many"
Learn more about the Regent Street Cinema.
Listen to the BBC Radio London coverage of the event on BBC Sounds (from 00:49:45).