Rachel Lander, Director of Teaching, Learning and Quality at Westminster Business School, contributed to a white paper and webinar about the value and impact of supplier codes of conduct in collaborating with sustainability and business specialists Ardea International.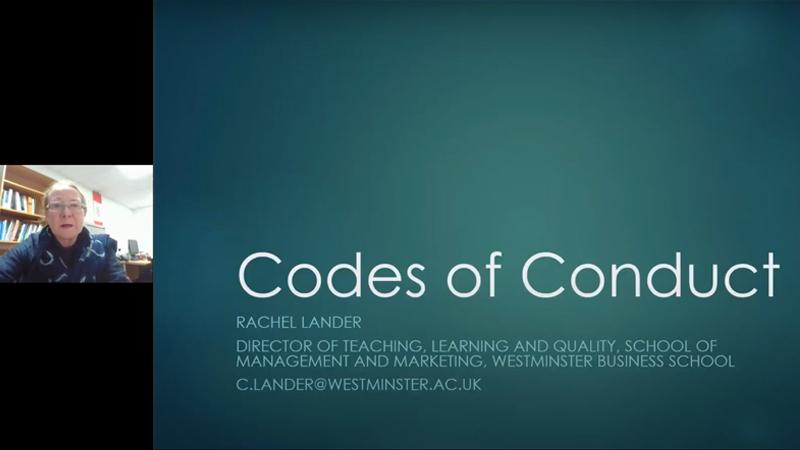 The joint research project investigated the role that corporate codes of conduct have in improving transparency in supply chains, and sought to answer how codes of conduct are used to establish supply chain transparency. The white paper revealed that while codes of conducts are important, they are ineffective if their requirements are not met with actions to bring about transparency. 
On 12 November, the white paper was launched at a webinar hosted by sustainability software solutions provider Greenstone, where Rachel Lander provided an academic perspective on codes of conduct and explained how Westminster Business School will consider them in its learning outputs. 
Lander was also joined by CEO of Ardea International Colleen Theron, who explained codes of conduct and gave a legal perspective on their use, while Gyles Scott-Hayward, Head of SupplierPortal at Greenstone, spoke about the value of codes of conduct in supply chains and how organisations are using software solutions to distribute codes of conduct and manage supplier compliance.
The panel highlighted strong leadership is imperative to influence and implement codes of conduct to ensure genuine ethical transparency, and that codes of conduct must support an authentic determination to embed company values and to foster strong business relationships.
Talking about the research project, Rachel Lander said: "The white paper research was initiated by our successful Westminster Business School Learning and Teaching Innovation Fund application last year. It is wonderful to see the final result of the work with Ardea International, which will contribute to research-informed teaching practice within our School."
Read the full white paper on the Ardea International website.
Watch the webinar on the Greenhouse YouTube channel.