Professor Rachel Aldred, Director of the Active Travel Academy at the University of Westminster and Professor of Transport, was part of a webinar panel about a new vision for cycling and walking following the announcement of a £2 billion plan to overhaul cycling and walking in England.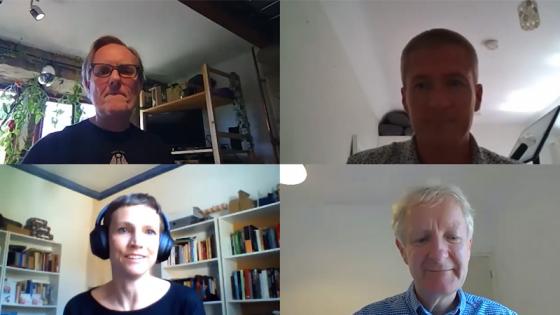 The webinar was organised by Phil Jones Associates (PJA), featuring Professor Rachel Aldred from the University of Westminster, PJA Chairman Phil Jones and PJA Associate Director Adrian Lord, all of whom have provided advice and input to Department for Transport. 
Professor Aldred opened the webinar by outlining some key shifts in approach, and arguing that although increased funding is crucial, getting the approach right is even more fundamental. She said that walking and cycling are starting to be recognised as a system or service, rather than primarily individual choices. 
She spoke about how this shifts the focus onto authorities at all levels, and what they provide for active travel. For instance, she said that if there are no safe cycle tracks, cycling is not going to be a choice for most people. She highlighted that we need to think not about 'how to encourage people to cycle or walk', but about what needs to be created in order that they are able to do so. 
Other important changes, according to Professor Aldred, involve a recognition that cycling in particular must be more diverse, and policy-makers are responsible for making this happen. She said that it is not the case, for instance, that women do not want to cycle, but rather that poor cycling conditions disproportionately affect women, and that planning has a male bias. 
Professor Aldred also welcomed the proposed changes to the Highway Code that will put more onus on the more dangerous road user, such as drivers and motorcyclists, to keep others safe. Following her contribution, Phil Jones discussed policy themes in the 'Gear Change' strategy document, and Adrian Lord ran through the long-awaited new Cycling Infrastructure Design Guidance.
Talking about the announcement of funding, Professor Rachel Aldred said: "While we still have a long way to go, it's great that we now have fit-for-purpose design guidance for cycling, which stresses the need to separate people cycling both from motor traffic and from pedestrian traffic. 
"Having agreement on what constitutes good cycling conditions is a crucial first step towards change, and I also welcome the statement that government will not fund substandard schemes and that other transport funding may be put at risk if authorities do not prioritise walking and cycling."
Watch the 'Gear Change: A bold vision for cycling and walking' webinar on the PJA website.
Find out more about the Active Travel Academy.
Watch the new Active Travel Academy video.