On Tuesday 28 May, civil rights advocate Professor Kimberlé Crenshaw led an empowering panel speakers' event on intersectionality, entitled 'Mythbusting Intersectionality: UK'.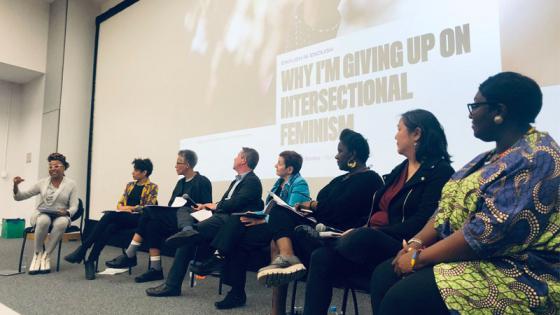 Intersectionality is the term used to describe the interrelated nature of social classifications such as race, class, and gender as they apply to a given individual or group and how this can often create overlapping and interdependent systems of discrimination or disadvantage. 
The concept of intersectionality was made popular by Professor Crenshaw 30 years ago, and it has since become a widely discussed topic by politicians and media figures alike on a global scale. The highly-anticipated event was held in the Hogg Lecture Theatre at the University's Marylebone Campus and involved panel speakers from across the UK and America, who are all leading thinkers in activism, media, academia and the arts. 
Speakers included Barby Ansante, artist curator and researcher at the University of Westminster, Sumi Cho, Professor of Law at DePaul University, Daniel HoSang, Associate Professor of American Studies and Ethnicity, Race and Migration at Yale University and Gail Lewis, a sociologist who specialises in psychosocial studies of race and gender. Co-founder of UK Black Pride Phyll Opoku-Gyimah, Founder of the Center for Intersectional Justice Emilia Roig, and Professor of Feminist Studies Barbara Tomlinson also attended the event as guest panellists. 
The panel explored the mystifying conceptions and empowering insights that surround intersectionality, providing panellists and audience members with the opportunity to discuss how they use it in their day to day lives. The event was presented by the African American Policy Forum (AAPF) and the Center for Intersectionality and Social Policy Studies at Columbia Law School (CISPS), and was co-sponsored by the Critical Pedagogies Group (Westminster/Birkbeck) and The Centre for Research on Race and Law (Birkbeck).
The roundtable provided a provocative, interactive users' guide to intersectionality, bringing to light the various ways that they mobilize it in order to name, trace and organise discrimination and inequality in society. Attendees were able to talk about how this interesting concept can be used to understand own worlds, practice their work and advocate for change.
Sabine Franklin, Legal Skills Academy Projects and Events' Assistant at Westminster's Careers and Employability Service and Staff BAME network member shared her thoughts on the event: "I didn't know much about the concept of intersectionality, nor am I a researcher in sociology or feminist thought. However, I am now interested in developing this for my field in economics. I want to influence policy in a way that helps marginalized people. So let's put intersectionality to work."