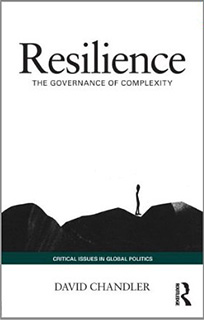 Routledge published Professor Chandler's new book, Resilience: The Governance of Complexity, on 1 May 2014.
Resilience has become a central concept in government policy understandings over the last decade. In our complex, global and interconnected world, resilience appears to be the policy 'buzzword' of choice, alleged to be the solution to a wide and ever-growing range of policy issues. Professor Chandler's book analyses the key aspects of resilience-thinking and highlights how resilience impacts upon traditional conceptions of governance.
There is an interview with Professor Chandler on the Routledge website.