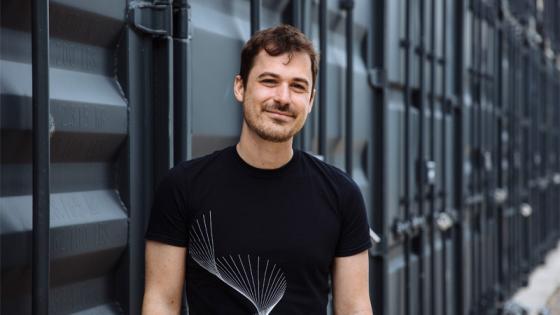 The opening shot of the documentary features overhead views of the structure 'Galaxia' designed for 2018's Burning Man, an annual summer event held in the Black Rock Desert in Nevada. The design for the temple references the fictional planet Gaia from Isaac Asimov's 1980s sci-fi book series 'Foundation'. Its structure was selected by the Burning Man Arts organisation, which runs the creative programme for the occasion.
The beginning of the documentary follows Brittany Kaiser, a former employee of Cambridge Analytica, the company at the forefront of 2018's hacking scandal and the documentary's focus. Kaiser is seen writing the company's name on the structure's wood, attaching a string of whistles, then watching as it is set on fire. 
Since 2000, a wooden temple has formed the sacred centre of the festival. Its cremation represents the end of the festival, in a "collective release". Professor Mamou-Mani's Galaxia is a demonstration of the power of robotic tools, representing 2018's 'I, Robot' theme. It was designed with fabrication tools like 3D printers and laser cutters, and digital 3D-modelling tools like Grasshopper and Rhinoceros.
He is the director of Mamou-Mani Architects and an advocate for a new approach to architecture in which the architect is the maker. His firm specialises in a new kind of digitally designed and fabricated architecture.
Of his design appearing in the documentary, Professor Mamou-Mani said: "I actually didn't know about it, several people have reached out to show me the clips from The Great Hack. I thought it was very beautiful that the Temple was shown as a way of releasing negative actions and thoughts. This is what we built it for, to help people let go of their grief, to move on, to connect with other people's joy and suffering. 
"Galaxia was a secular temple for everyone, no matter what their religion or backgrounds. This movie started with this, then explained the story of Cambridge Analytica, as humans, we make mistake then we learn and hopefully adapt. This is how I perceived these first scenes.
Beyond that, Galaxia was a collective creation that collapsed the notion of top down design, it was a holistic project in which the designers, the makers, the engineers, the fabricators, were all constantly exchanging and testing ideas, it broke many walls. It was a learning experiment for all of us and as such we all grew so much from it."