On 24 September the University of Westminster's Little Titchfield Street site was host to the annual Steve Hewlett Memorial Lecture, an initiative to raise money for the Steve Hewlett Memorial Fund.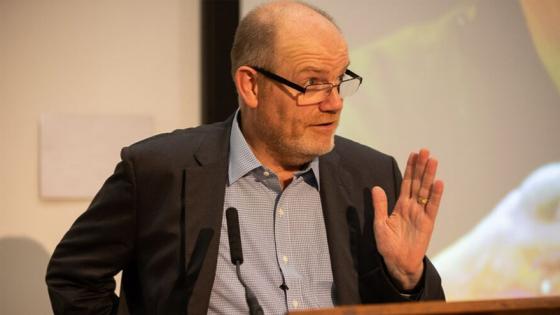 Mark Thompson, President and CEO of The New York Times Company, gave the lecture at this year's event.
The event was organised by the Media Society and The Royal Television Society. The net proceeds from the occassion go to the Steve Hewlett Scholarship Fund, which supports the Steve Hewlett Scholarship. The Scholarship provides assistance to journalism and TV production students from low-income backgrounds. It is presented each year to one recipient studying an undergraduate broadcast journalism course in the UK. 
Steve Hewlett was a print and radio journalist who shared candid accounts of his fight against cancer through his columns in The Observer and his interviews with Eddie Mair on BBC Radio Four's PM. The scholarship recognises his commitment to improving access to careers in the media for all and improving social mobility. 
The event was well attended by media stars such as Peter Taylor, Michael Cockerell and Alex Graham as well as other senior BBC people and Oxford Heads of College including the former Head of Radio 4 Mark Damazer.
The live television stream, which was being watched in New York, where Mark Thompson is CEO of The New York Times, was managed by Television Production BA students and staff from the College of Design, Creative and Digital Industries based at Harrow Campus. The show raised over £4,000 from ticket sales and donations.
Geoffrey Davies, Principal Lecturer on the Journalism BA Honours course, said about the event: "It was again a pleasure to host the Hewlett Lecture which is now firmly established in the media calendar, alongside the Wheeler Award which we host in June.
It is also appropriate that we hold the event having worked with Steve on many occasions and also that we are involved in an event that supports students."
Learn more about the Steve Hewlett Scholarship Fund.