At the beginning of March 2021, 50 Politics and International Relations students took part in a virtual field trip where they met with a range of international organisations and NGOs, including the United Nations.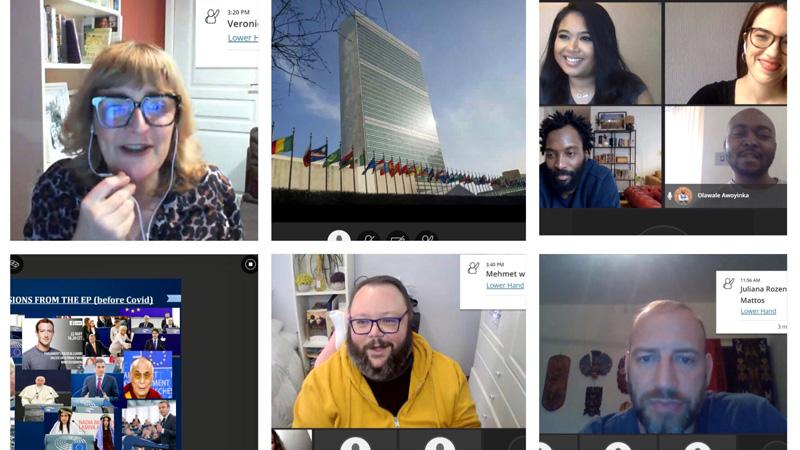 The trip was funded by the Quintin Hogg Trust, and was organised by Dr Sahar Taghdisi Rad, Course Leader for the International Relations and Development BA Honours course, with assistance from Irene Queralt Santamatilde, PhD student in Politics and International Relations.
Following last year's successful trip to international organisations in Geneva, this year the School decided to organise a virtual trip for students to meet with a wide variety of organisations and NGOs worldwide, including those in New York, Brussels and Dhaka. 
The trip aimed to familiarise students with the role and functions of international organisations in the field of international development, allow unique opportunities to closely engage with these organisations and their policy makers, and therefore enhance their knowledge and studies in these areas. It also allowed students to familiarise themselves with employment routes and options within these organisations in view of their future beyond university.
The trip included a range of prestigious international organisations including the United Nations and the International Organisation for Migration, as well as regional organisations including the European Parliament and NGOs and lobby groups such as the Bike Project and the European Women's Lobby. Students heard talks from representatives of these organisations, introducing the organisation's role and mandate, while also focusing on specific projects and areas of activities. 
On the last day of the field trip, there was also a panel discussion with young professionals, including Westminster alumni who have developed successful careers at national and international organisations such as NATO and the International Climate Finance. The trip ended with a fun social evening and a quiz based on the various sessions from the field trip.
Talking about the trip, Dr Sahar Taghdisi Rad said: "Fifty students from Politics and International Relations took part in the field trip programme. The student engagement and attendance were fantastic; all of our participating students actively attended all sessions, asking questions, sharing opinions and interacting with the speakers. Students not only showed great interest in all the topics and organisations covered in the trip, but also asked lots of questions about the career routes and options at these institutions. Some of the speakers have told us how impressed they have been with our students' keen involvement and engagement."
One of the students who attended the field trip added: "This experience has provided me with specific knowledge on a number of international organisations to which I aim to work for in my near professional future. Alongside the theoretical information about the work of international organisations, I also gained practical strategies, skills and valuable tips to apply to prominent and influential institutions. The trip added quality to my final months as an undergraduate at the University of Westminster, further defining my future area of interest and specialisation."
Learn more about Politics and International Relations courses at the University of Westminster.