The event, called 'Your strange thoughts', was hosted by the Department of Psychology on 12 February at the University of Westminster's Little Titchfield Street site. It attracted 385 people who wanted to know whether strange thoughts were normal.
"It's rational to fear, but it's irrational to let the fear take over your life. From psychology we know that almost everyone has what we call intrusive thoughts", said David, and to prove his point he asked the audience whether they had had thoughts of jumping in front of a tube train. To the audience's surprise, almost everyone in the lecture theatre put their hands up.
These strange thoughts can include the likes of wanting to leap from a high place, thinking about hitting a stranger on the street without any reason, having an urge to repeatedly wash hands or check whether the oven has been switched off, or even thinking about harming one's baby. Strange thoughts that are frequent can include random compulsive actions like thinking that if one does not snap their fingers, their parents will die in a car accident – an example that David described as a common thought.
David said: "Strange thoughts are a normal and common part of the human experience. Something like nine in ten of us experience them, and if more people spoke about them, then it would ease the sense of isolation that some people feel when they find that they do not go away.
"It's important to talk about them because the themes are often exactly the kinds of topics that we don't want to talk about. A new mother, for example, can be terrified of strange thoughts about hurting her baby. If she knew that those thoughts are normal – and do not indicate that she is of any kind of threat – then that could save years of anguish, pain and in some cases a compulsion to not go near the baby, just in case."
The former Guardian science correspondent also shared his experience about his own struggle with Obsessive-Compulsive Disorder (OCD) fuelled by his extensive fear of developing AIDS, which made him irrationally fearful of physical contact with blood, providing an insight into the life of someone living with the condition.
David developed OCD 20 years ago when he was 19 years old. After undergoing treatment, he still experiences intrusive thoughts but he has learnt to keep them under control, preventing them from taking over his life, he said.
OCD is an anxiety-related condition where a person experiences frequent intrusive and unwelcome obsessional thoughts, often followed by repetitive compulsions, impulses or urges. The illness affects almost one million people in the UK, according to the charity OCD-UK. Most frequently the condition develops in the teenage years, but most sufferers do not seek help until after the age of 30 due to lack of awareness and social stigma.
David signed copies of his book The Man Who Couldn't Stop after the discussion.
Dr Viren Swami said: "The event was very successful, and we hope to build on it when the new season of Plug In Your Brain begins in the autumn!"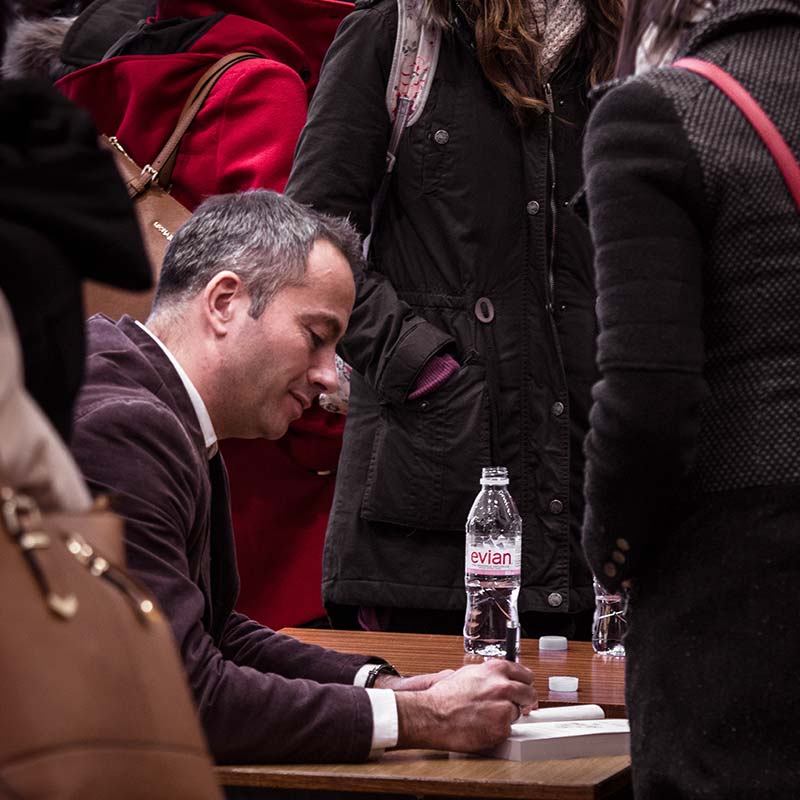 Photo © Viktor Csigas