Sam Johnson, Primary Outreach Officer, welcomed pupils from local primary schools in Westminster and Camden to Regent Campus. Facilitated by student ambassadors and University staff, the children completed a range of activities to begin an exploration of educational pathways, learning about university and student life.
Pupils had the opportunity to complete a scavenger hunt style quiz around Regent Campus, meeting current students and exploring the history and development of the University of Westminster. They worked in groups to find out what they would be interested in studying in the future and discuss their ambassadors' own educational journey.
The young visitors were also treated to a private screening of three short films at the Regent Street Cinema on the subject of film heritage and childhood, including The Red Balloon and Animal Farm. Pupils then took part in a tour of the cinema, engaging in the heritage and culture of the space. Speaking about the cinema screening, one child said: "I liked the way the second film, an animation, tried to show us to never give up and always follow our dreams."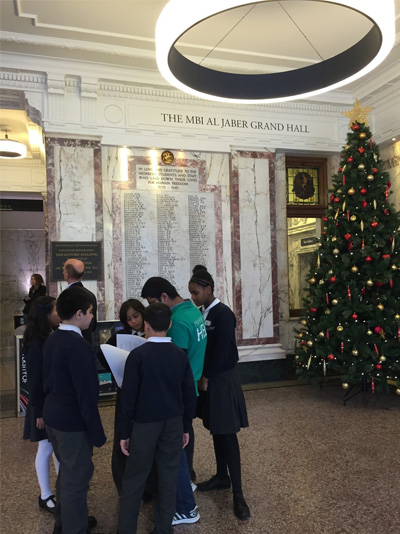 Pupils at the University of Westminster's Regent Campus
Commenting on the experience as a whole, another pupil said: "My favourite part of the day was exploring the Campus because it's really interesting to know all about the history of this place… our ambassadors were lots of help in leading us throughout. Overall, it was an amazing day, thank you for the opportunity!"
One teacher commented that "it was great for the children to experience university and to see they can learn after schooling. The message of inspiration for future learning was evident throughout the day."
The Outreach team will continue to build relationships with local primary schools throughout next year to help younger people better understand education as a pathway to future success. Our aim is to support local schools and communities in building the next generation of global citizens.