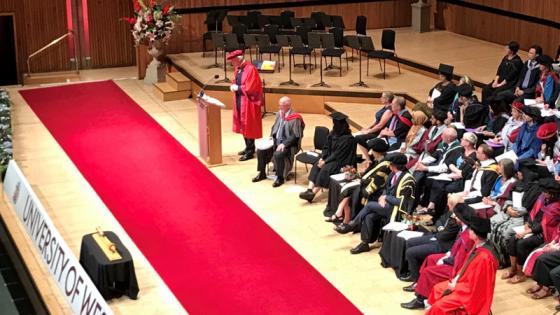 The Tigerspike Award, generously donated by global digital products company Tigerspike, was launched earlier this year to incentivise students to aim for a distinction in their final year. The prize, which was available to female final year students, aims to encourage more women to pursue careers in the male-dominated tech industry. 
Representatives from Tigerspike attended the summer graduation ceremonies to present the highest achieving students with the award. Speaking of the event, Josh Haagsma, General Manager of Tigerspike (Europe) said: "I was so delighted to attend the University of Westminster graduation ceremony and see the Tigerspike Award presented for the first time. It was a chance to recognise some incredible achievements in an inspiring venue. I'm extremely proud that Tigerspike were able to play our part in encouraging future innovators and promoting diversity – sincere congratulations to the recipients of the award and we look forward to doing it all again (and more) next year!"
Abby Traynor, one of the Award Winners from the Computer Science BSc Honours course, said: "I felt proud having achieved a Distinction after working so hard to accomplish this. This was down to dedication and determination throughout my education which continues to drive my passion for working hard. This award recognises these characteristics and encourages females to be passionate about the industry. I believe this will help my career by making me stand out as a female with such strengths. I'd like to thank Tigerspike for supporting the new generation of females, making us stand out in the industry."
Jordan Scammell, Development Team Manager at the University of Westminster, said: "It was a pleasure to be joined by Tigerspike at the School of Computer Science and Engineering's graduation ceremony and to celebrate, together, the success of those students graduating with the Tigerspike Award. This recognition from a forward-thinking technology company like Tigerspike really will help our Software Engineering and Computer Science female graduates to stand out in a competitive and often male-dominated sector."
To find out how you or your company might be able to support similar prizes of academic scholarships, please contact [email protected].
Find out more about the Computer Science and Software Engineering courses offered at the University of Westminster.