On Friday, ten students from the Menswear MA course at Westminster showed their work as part of the British Fashion Council's first digital London Fashion Week. Each student had made a short film that focused on their work from the last year.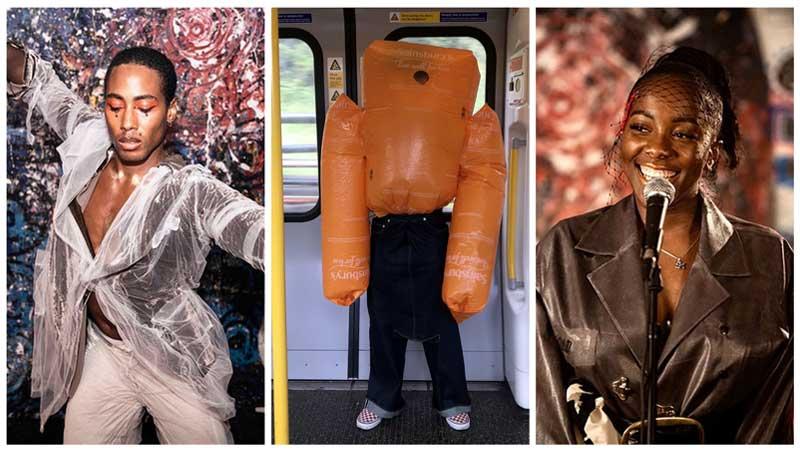 Fashion student San Kim revisited his inflatable garments, which had been initially shown as part of the Menswear MA show last June.  Since then, their significance has been altered by the global pandemic and the need for people to wear PPE. Fashion student D.P Yongwei Peng's collection, who was born female and presenting as male, is about experimenting with the non-binary spectrum with a focus on binders and their personal style. The casting for this work mirrors D.P Yongwei Peng's own journey, models born female, who are presenting as male.
As well as showing as part of the Menswear MA show on Friday, graduates Halina Edwards and Catherine Hudson were invited to be part of Charles Jeffrey's presentation on Saturday night.
Featuring a line-up of BIPOC performers and artists, the live-streamed show was also a fundraiser for UK Black Pride. Hudson's "Cool Rasta" collection was worn by dancer and choreographer Malij Nashad Sharpe. In contrast, Halina Edwards's collection was based on research she had undertaken on the significance of the 18th and 19th-century Ghanaian flag-making tradition in the British Museum.
Talking about the collection, Halina Edwards said: "They were used to scare off the opposition in war. And every year, there's the Fetu-Afahye festival on the Cape Coast where they are used symbolically to ward off disease."
Also showing at London Fashion Week were Robyn Lynch and Priya Ahluwalia who both graduated from the Menswear MA course two years ago. Lynch showed her new collaboration with Rapha, the Performance Roadwear brand, repurposing deadstock to create unique garments. While Ahluwalia, who was recently announced as the joint winner of this year's global LVMH prize, showed a virtual exhibition and launched her second book entitled Jalebi. Featuring the work of photographer Laurence Ellis, it focuses on various themes throughout Ahluwalia's work and what it means to be a young mixed heritage person living in modern Britain.
Course Leader Liliana Sanguino said: "I am very proud of the work achieved by the students this year, especially under COVID-19 context, they all showed their progress and development. What it is really nice to see is that each student has developed their own identity and they are touching on current and relevant subjects which is the aim of the course."
Find out more about Fashion courses offered at the University of Westminster.