The University of Westminster Students' Union's Environmental and Marketing Societies hosted a session with cosmetics company Lush, where students were able to make their own bath bombs and learn about Lush's company strategy.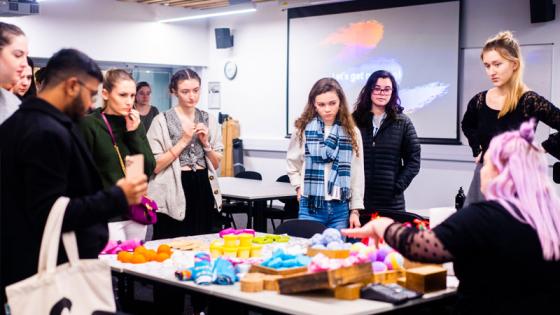 The event, which took place at Chilton Hall on Marylebone Campus, was highly attended by members of both societies.
The representatives from Lush provided the students with raw ingredients so that they could create bath soaps, bath bombs and face masks, which they were later able to purchase. The employees also brought in exclusive products only available in their flagship store on Regent Street for the attendees to buy.
Lush is a cosmetics retailer known for their ethical practices, where they refuse to buy from companies that carry out, fund or commission any animal testing and their products are 100 per cent vegetarian. Many of their products, specifically their bath bombs and facemasks, are handmade.  
A member of the Lush management team gave a talk to the students about the company history, their ethos and their advertising strategy, after which students were given the chance to ask questions. 
The Environmental Society at the University are a group of students who are passionate about helping the environment, increasing sustainability within the University and raising awareness of global issues such as climate change and plastic pollution. 
Dain Son, Head of the Environmental Society, said about the event: "It was one of the most fun and engaging events that we hosted this academic year. Our members were able to learn about the great sustainability initiatives run by Lush and ask any questions they had while also being able to make some of their most iconic products.
"Lush was the best company that we could have invited to the University for an event like this, as they were able to show the students that businesses can be transparent, environmentally friendly, creative, and profitable all at the same time which was a great inspiration to us Westminster students." 
Learn more about societies at the University of Westminster Students' Union.