The awards were given after the third year Journalism BA students ran the Voice of London, their own live news website aimed at young Londoners for which they had to produce content and promote it on social media, putting in practice the skills they have learned on the course.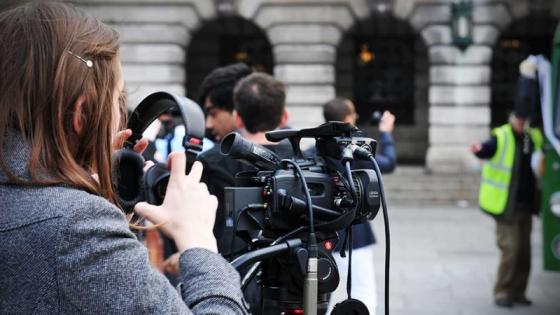 Students were rewarded for their efforts in producing off-beat stories told in engaging ways that made the best use of the online medium. By replicating the running of a professional newsroom, the students produced stories across a range of subjects and with the use of multimedia.

Awards were given to the best news story on site, as well as the best story in each section, as voted by the students themselves. The best news story of this year's cohort was 'The low-down on the US midterms', by Sissi Yi Hu. Prizes were also given to the six students who volunteered to be site editors throughout the module.

Tutors also nominated students for Best news hound, Most original research and exclusive coverage, Best audio, Best video, Best series of off-beat features and original ideas, Best series, Best graphical treatment, Best map, Best listicle, Best live blogging, Best news features, Best team players, and Best hitter. This was 'Oh my god: Is religion relevant to young people?' by Earyel Bowleg and got over 17K engagements.

The aim of the project was to get students to perform like professionals across a range of subjects and topics for every interest. They were divided in teams, each one following a different site section – News, Sport, Arts & Entertainment, Lifestyle and Specials – with advice from their tutors: Steve Hill, Dave Gilbert, Dr Anastasia Denisova, David Spencer and Jim McClellan.

Teodora Agarici, who won the Best Audio award for her work on the Faces of Discrimination series, said: "It was a great opportunity to challenge myself and at the same time work as a platform to showcase my work. Producing a range of articles in different formats has prepared me for how journalism looks like in a real newsroom: always on the go, getting the adrenaline rush and finding a creative angle to tell your story."

The project challenged students to engage with the editorial process, be topical, meet deadlines, exercise news judgement, understand audience behaviour using analytics and promote content on social media. They had to produce at least three short news stories and two multimedia features including original quotes as well as a variety of formats.

Dave Gilbert, Senior Lecturer in Journalism and one of the module leaders, added: "Voice of London is a chance for the students to take their learning from the first two years and apply it to a real world scenario — or at least as close as we can replicate. We aim for the Voice of London awards to be a bit of fun which we can share with the class and to highlight some of the great work we have seen.
"We were particularly impressed at how the students rose to the challenge and produced some really good stories and across a range of subjects and treatments. The multimedia creative output of the whole class was very satisfying to see. Next year's cohort have a lot to follow."

At the end of the semester, students built on the skills learned and specialised in providing content for a specific platform. They could choose between producing a TV bulletin, radio show, or spin off website, that would show their creativity to break out of the system to satisfy other formats.

See the content available on the Voice of London.

Find out more about the Journalism BA course offered at the University of Westminster.