When Irene Achilleos found out on Results Day that she had done better than expected, she used the University of Westminster's Clearing service to secure a place on the Fashion Marketing and Promotion BA Honours course as well as to win a Clearing scholarship. Now she is studying on a course she loves, and says that the Clearing process looks stressful but is "worth it in the end".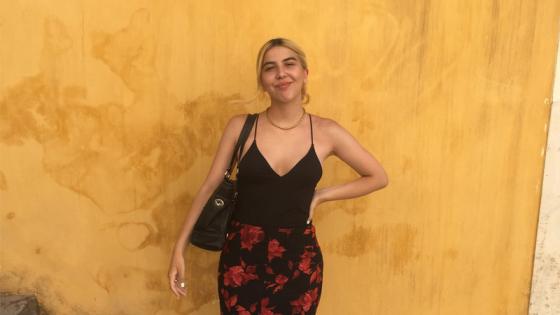 Irene had originally accepted an offer to study Fashion Design at a different university, but when it came to A Level Results Day, she received better grades than expected. This gave her a passport to really pursue her dream career at Westminster. She said: "I felt that fashion promotion was more suited for me due to the vast range of subjects like fashion styling, fashion marketing and visual merchandising. It is more suited to me because I like to establish a holistic view from everything I learn."
Irene's father had heard about the University of Westminster's special Clearing scholarships on BBC Radio 4. The scholarship, an award valued at £1,500 per year for three years, gave her another reason to go through Clearing. She said: "I had always had the University of Westminster in mind and when I found out that they were offering a Clearing scholarship for the course I wanted to study, I thought I wouldn't lose anything if I applied."
As a Greek national, Irene says that because her parents had to sacrifice their standard of living in order for her to go to university, the scholarship made a big difference for her. "Getting a scholarship from a UK university in London due to my good grades that I worked really hard to achieve made me really proud of who I had become."
Irene was accepted onto Westminster's Fashion Marketing and Promotion BA Honours course and she has been very successful in her studies so far. She said: "My teachers, classmates, and university facilities have been very helpful. I enjoyed the course that much that in my first year I got a first overall." 
Along with her success on the course, Irene praised the career prospects it has given her. "I feel like what I am learning from the course will definitely help me build my career because I learnt how to communicate with other creatives, as well as software like Photoshop and InDesign, which I wouldn't have learnt in such a professional level any other way."
When asked what advice she would give to those going through Clearing, Irene warned that it would be stressful but "worth it in the end". 
"The more questions they ask, the more sure they will become about their decision. What helped me decide was writing down all of the positive and negative aspects, and sticking with my decision to the end." 
Find out more about Clearing scholarships at the University of Westminster.
Find out more about the process and the courses in Clearing at the University of Westminster.
Download the Clearing Toolkit for applicants.