Kaylee Golding, who graduated from the Radio and Digital Production BA Honours course, reminds Black students at Westminster that they are amazing, can excel and are great.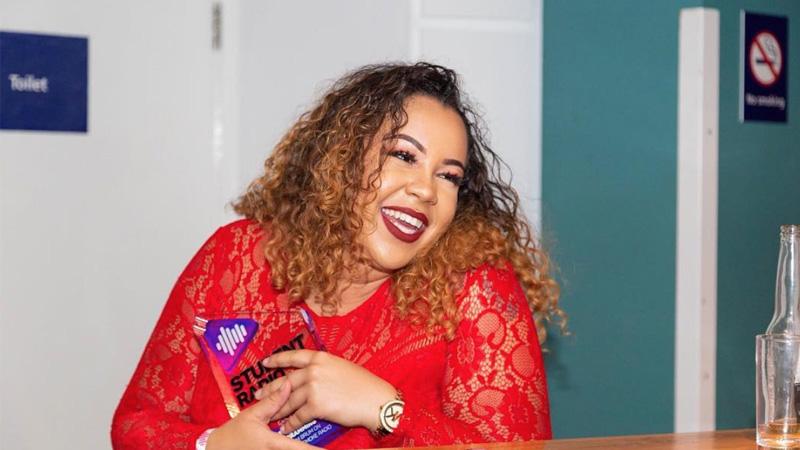 Kaylee Golding's career in the radio industry has included many notable achievements, including working on mainstream stations such as BBC Radio 1, Kiss FM, Capital Xtra and Magic FM, and as the Head of Production at The Beat London 103.6FM. One of her most recent achievements was being named as one of the Radio Academy's 30 under 30 Class of 2020. She said: "My work for Magic FM was nominated and I actually won it! I was so shocked because I wasn't expecting to be awarded at this point in my career, but plot twist, I was."
She noted the most poignant moment of her career was when she won three student radio awards in one night whilst studying at Westminster, which led to her presenting her own show on BBC Radio 1, which she noted as the biggest achievement in her career to date. She said: "I was allowed to just be me and have fun on air broadcasting to the nation, it was really incredible!" 
She says that her passion for radio started when she was young and found her love for music, but didn't know how to sing. Her mum would often listen to Trevor Nelson's show on Radio 1 Xtra, and she loved how her mum connected with him and his show and how he educated her on old school music. His work on the show further inspired Kaylee to follow in his footsteps.
Golding is an advocate for the Radio Silence movement which was set up by two Westminster alumni, Sara Hebil-Motie and Pulama Kaufman. She stresses the vital importance of diversity in radio, and wants to ensure that everyone has the opportunity to work in the creative industry and be inspired. She said: "It is hard to be inspired if you don't see anyone that looks like you. I really felt like I couldn't be a presenter because I didn't see a chubby mixed-race presenter with a lisp and a brummy accent, I thought I had to stay behind the scenes because I didn't see anyone like me. But that's false and we can all do it, I want everyone to feel like they can."
When asked about the barriers she had to overcome in her career to get to where she is today, Golding drew upon her insecurities, and noted how easy it is to believe that you aren't good enough. She said that when you know your worth and have faith in yourself, you will excel. 
Golding commended the Radio Silence movement among other initiatives that have been put into place to ensure that the industry is more accessible. She gave examples of Bauer Media and the BBC no longer relying on internal referrals and getting rid of volunteer positions. She said: "It is very hard to volunteer if you come from a low-income background, therefore companies now offering only paid internships opens up accessibility. With this, we will now see more diverse people applying for these opportunities and a more representative work force across the radio industry. As a result, more people will be inspired because they will actually see and hear people that look like them."
Giving advice to Black students at Westminster, Golding said to remember that they are amazing: "We are in a world that is systematically racist, and Black people are often oppressed. Therefore, it is so easy to feel you are not good enough and you can't succeed. Well that's wrong; you can succeed, and you are great."