Celeste Miller, aged 19 from London, saw Clearing as an opportunity for making the right choice and she decided to come to study at the University of Westminster. Her advice is to "take the time you need to make the right decision."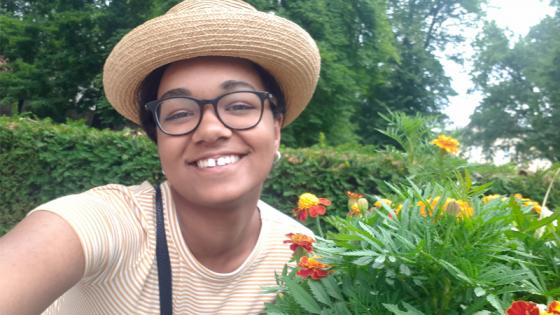 During her A Levels, Celeste discovered her passion for Psychology and decided she wanted to expand her knowledge and pursue the subject at degree level. After Results Day, she decided that her preselected option was not the right choice for her, and Celeste's family friend recommended Westminster's Psychology Department. Having a keen interest in undertaking a placement year, this was one of the key features of the Psychology BSc Honours course at Westminster that encouraged Celeste to apply through Clearing.
As a mixed race woman from a disadvantaged background, Celeste said she felt very lucky to have secured a University offer and a Clearing scholarship. She found out about the Westminster's Clearing scholarships on the University's website and received one of the 60 scholarships that were available, each valued at £1,500 for three years in support of students' outstanding achievements. She said: "I'm confident that my course is the best fit for me and the Clearing scholarship was an added bonus. It was very easy to apply, I just sent a quick email and I had a phone interview that was really a little chat."
Despite the University of Westminster not being her original first choice, Celeste is really enjoying her time at the University. She said: "I remember feeling like things were clicking into place and that I had made the right decision. I love the course I'm on and I'm so glad I chose Westminster.
"I'm really enjoying the course and I have been supported every step of the way throughout my first year and, based on my experiences on the phone during Clearing, I'm not sure I would have had as great an experience if I had gone to the university I was hoping to get into."
Celeste also commended the volunteering aspect of her scholarship and how it has improved her employability. "I've always wanted to do volunteering but I have never had the push I needed. I'm really enjoying my experience so far and learning so many skills that will be very useful in building my career."
When asked what advice she would give to prospective students about Clearing, Celeste said it was important to be prepared. "If you don't do as well as you would like, once you've processed the upset keep a cool head and don't let the stress get to you. Come prepared with a few numbers you can call and take the time you need to make the right decision."
Find out more about Clearing scholarships at the University of Westminster.
Find out more about the process and the courses in Clearing at the University of Westminster.
Download the Clearing Toolkit for applicants.