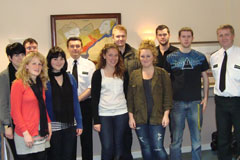 The meeting took place at Strand Road PSNI station in Derry, where students had the chance to discuss the past and present policing situation in the city, with Inspector Andy Archibald (left) and Inspector Alan Hutton (right).  Speaking only three days after the murder of Constable Ronan Kerr, the officers said that morale in the PSNI was good, despite the great sadness they felt at the loss of their colleague. 
The service was more determined than ever to continue its transition since the start of the peace process, to a truly community-based model of policing, in which the service fully represented the society it served.  Students also had the opportunty to meet former members of the Civil Rights movement, and some of those who had become involved in terrorism and who had spent long periods in prison.  They heard that the threat to the peace process from dissident groups was real, and that they had a certain appeal to small groups of disaffected young people.  Nevertheless, the recent desperate events had not precipitated a crisis in Northern Ireland and instead had demonstated unprecedented determination amongst all the political groups not to be dragged back to the dark days of the past.
 
The trip was organised by Dr Martin Doherty and Dr Patrick Smylie of the School of Social Sciences, Humanities and Languages.