Second-year Fashion Design BA student Holly Scott was announced this week as the winner of the 5th Annual DRAWFASHION competition.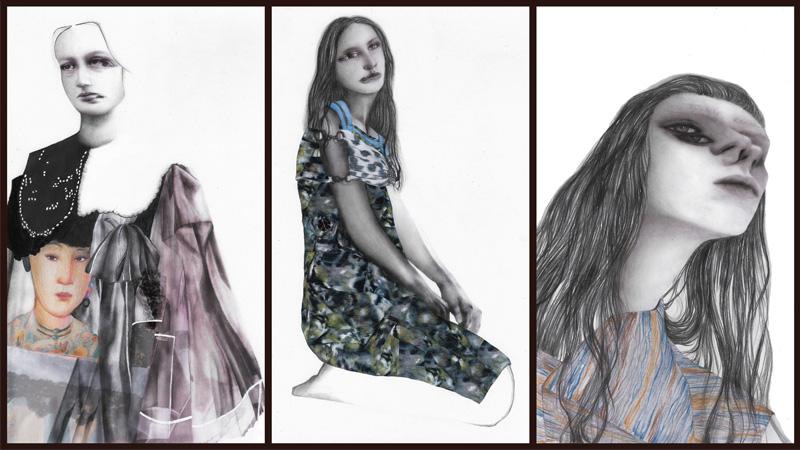 The competition which was founded in 2016 by renowned fashion illustrator Rob Phillips to celebrate the imagination and skill of fashion illustration, an art form that captures the wonder of the fashioned body.
The largest fashion illustration competition in the UK, DRAWFASHION, encourages students to explore fashion through observation, abstract experimental thinking and practice. The competition is open to students, emerging illustrators, artists and image-makers throughout Europe and it attracts hundreds of entries from which an illustrious panel of judges picked the winning illustration.
This year's judges included Richard Kilroy, Cecilia Carlstedt, Helen Bullock, Bex Cassie, Jennifer Corker, Lara MacKenzie, Poppy Waddilove, and Frida Wannerberger.
Talking about her award, second-year student Holly Scott said: "I am very grateful to the DRAWFASHION judges for choosing me, and to LCF and Cass Art for providing this opportunity. It is a great feeling to have my work recognised, especially when the panel included illustrators that I really admire!"
Andrew Groves, Professor of Fashion Design, said: "Holly's success in this international illustration competition is a testament to her talent and vision. Fashion Design at Westminster has an exceptional reputation for fashion illustration with final year student Dominic Huckbody also winning this competition two years ago. It is a testament to the outstanding teaching on the course led by fashion illustrator Richard Gray."
Fashion illustration is taught on the Fashion Design BA course by the highly respected illustrator Richard Gray.

Richard teaches across all three years of the Fashion Design BA course, working with students on their drawing, illustration and presentation skills.
Famous for his collaboration with Anna Piaggi over several years on Italian Vogue, Richard has worked on projects with a variety of designers such as Agent Provocateur, Alexander McQueen, Givenchy, Vivienne Westwood, Dunhill, Boudicca, Miguel Adrover and Benjamin Kirchhoff.